Cross Country triumphs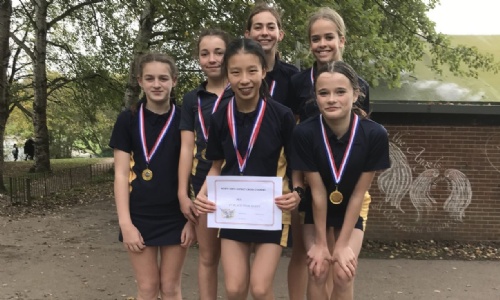 We took 28 students to the District Cross Country Championships at Fairlands Valley Park in Stevenage . On a cold and windy day, the Y7, Y8 Y10 and Senior teams all took the victory, beating every other school in North Hertfordshire. Faced with multiple injuries and illnesses, the Y9 team ran superbly to finish just outside of the medals.
A special mention must go to Jess Manson (Y7) who finished 2nd, Sarena So and Edythe Oughton (Y8) who finished 1st and 2nd respectively, and Fran Hart (Y10) who finished 3rd. In the Senior Girls race, Abi Manson, Imogen Rose and Kirsten Morley took every spot on the podium finishing 1st, 2nd and 3rd respectively.
Many congratulations to each member of the following teams:
Year 7 - Jess, IIona, Bryony, Bea T-W and Neve
Year 8 - Sarena, Edythe, Hannah, Rowan, Lauren and Faith
Year 9 - Chloe, Nina, Juliet, Rita, Layah and Anouska
Year 10 - Fran, Molly, Lily-Rose, Bea, Rose and Hannah
Seniors - Abi, Kirsten, Imogen, Lucy and Sophie