'Theatre is the capacity possessed by human beings ... To observe themselves in action.' Augusto Boal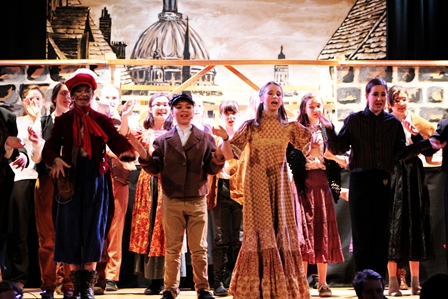 Teaching Styles
Drama is taught using a wide range of resources and written and practical work. This will include discussion, mime, physical theatre, improvisation, directing, vocal and movement skills.
Homework
Homework is a mixture of written and practical preparation, research, recording, analysis and evaluation and of course rehearsal.
Extra Curricular
Theatre trips and visits from theatre companies are an important part of the GCSE and A Level courses. The Drama teacher also supports students applying for drama schools and drama companies. There is a Junior Drama Club.
Grouping
All drama, like life, consists of mixed-ability groups.
Key Stage 3
Drama is part of a carousel of four subjects in Year 7 where everyone can get introduced to the subject. It is a popular option in Years 8 and 9.
Key Stage 4
Drama is an optional and popular subject at GCSE level. The course covers responding to, developing, performing and evaluating ideas dramatically; both from their own work and that of others. You will learn how drama is created, including all the acting and staging skills that are needed to put a piece of drama on to the stage. You will learn how to create a character and play this character in a performance. You will also learn many other skills that are highly valued in any walk of life. These include teamwork and confidently presenting yourself in public.
The current GCSE is mainly practical, assessed with a mixture of practical and written exam and some written coursework.
Further details of the course content, method of study and assessment structure can be found in the Key Stage 4 Options booklet.
Drama KS4 follows the OCR course:
https://www.ocr.org.uk/qualifications/gcse/drama-j316-from-2016/
Key Stage 5
Drama and Theatre Studies at A Level develops an understanding of how theatre works and gives opportunities to be a performer, a designer and an active audience member. Full details of the courses offered by the Hitchin Schools Sixth Form Consortium are shown in the Consortium Prospectus.