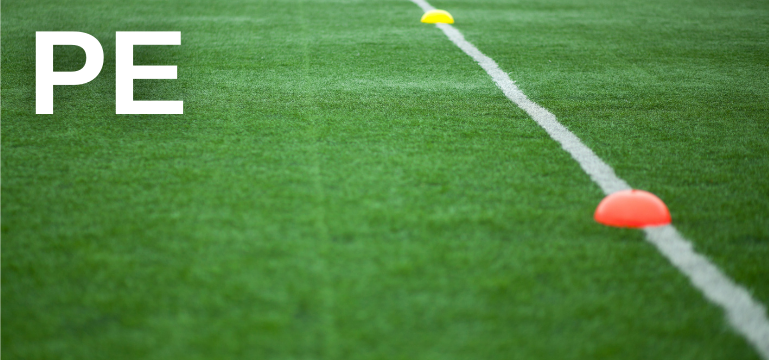 Athletics
In the County Athletics League the Under-14 team finished in 7th place in their league and 2nd at the plate finals. The Under-16 team finished in 1st place in their league and 3rd in the overall final. Congratulations to everyone!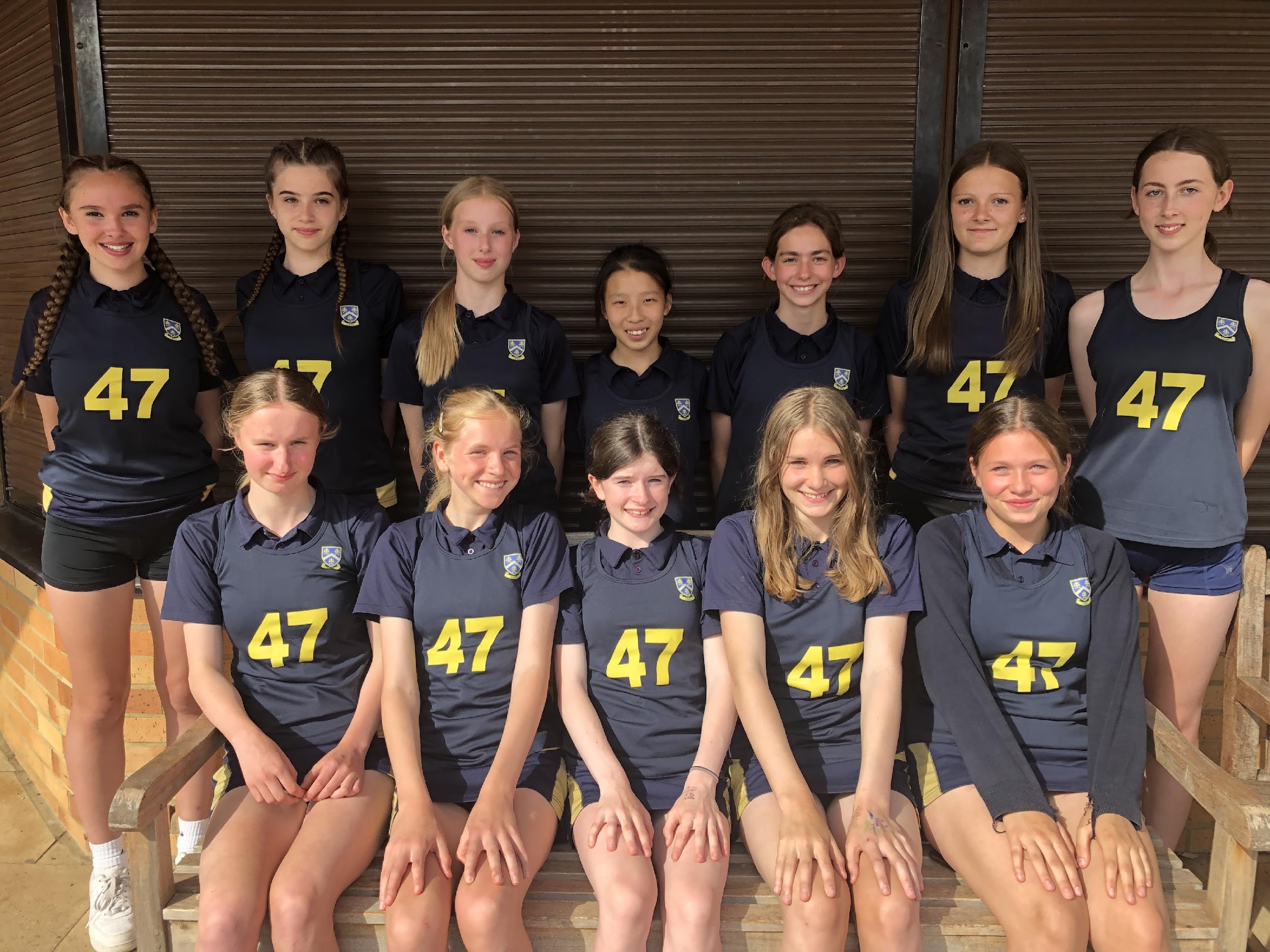 In the County Athletics Multi Events Competition, Harriet C, Fran H and Lucy B all performed well against some challenging opponents. Congratulations to Lucy who was selected to represent Hertfordshire at the regional finals and Fran who was selected as reserve.
At the County Athletics Championships there were lots of commendable performances. Congratulations to Amelia G (200m), Lucy B (triple jump) and Poppy R (javelin), who were all selected to represent Hertfordshire at the English schools' national competition in Manchester.
District Athletics Championships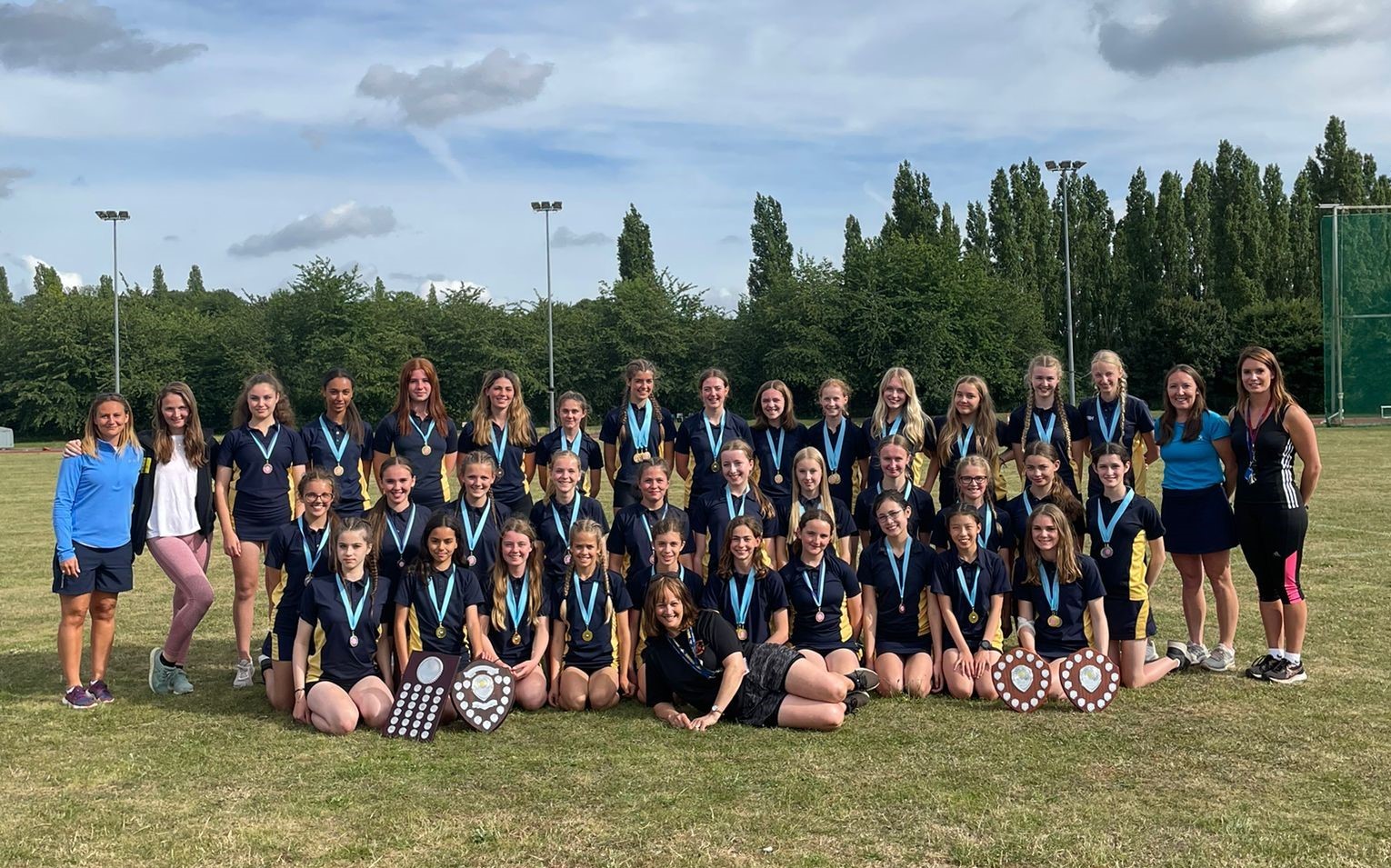 We had a great day at the District Athletics Competition, where the hard work during this term culminated in fantastic performances all round, with every athlete getting at least one medal. Congratulations also to Lucy B (triple jump) and Lucy, Erin, Abi and Ruby (relay) who broke the district records. Poppy R broke the district record in javelin throwing a massive 39.76m, and received the 'Performance of the Day' trophy. Well done!

Sports Day
It was a joy to see so many students involved in Sports Week, including field events (Tuesday), district athletics (Wednesday) and track heats (Thursday) - culminating in the track finals on an all-types-of-weather Sports Day (Friday)! Well done to all the Sports Prefects for getting their form teams ready to go, and thank you to everyone for your support and cheering during the events. Congratulations to Poppy R who broke the Year 10 javelin record throwing 35.25m, and to Edythe O who broke the Year 7 hurdles record, running a time of 12.2s.
Winners:
Junior trophy: Frank
Intermediate trophy: Teresa
Senior trophy: Year 12
Overall House trophy: Pankhurst
Tennis
Our tennis players have had a great season. It was wonderful to see so many Year 7 students out at Tennis Club, and taking part in a friendly match against St Francis, as well as in the House League. In the Nicola Mabbitt District League the Under-13, Under-14 and Under-15 teams all finished in 1st place, which led to them competing in the county finals at Queenswood. Brilliant result!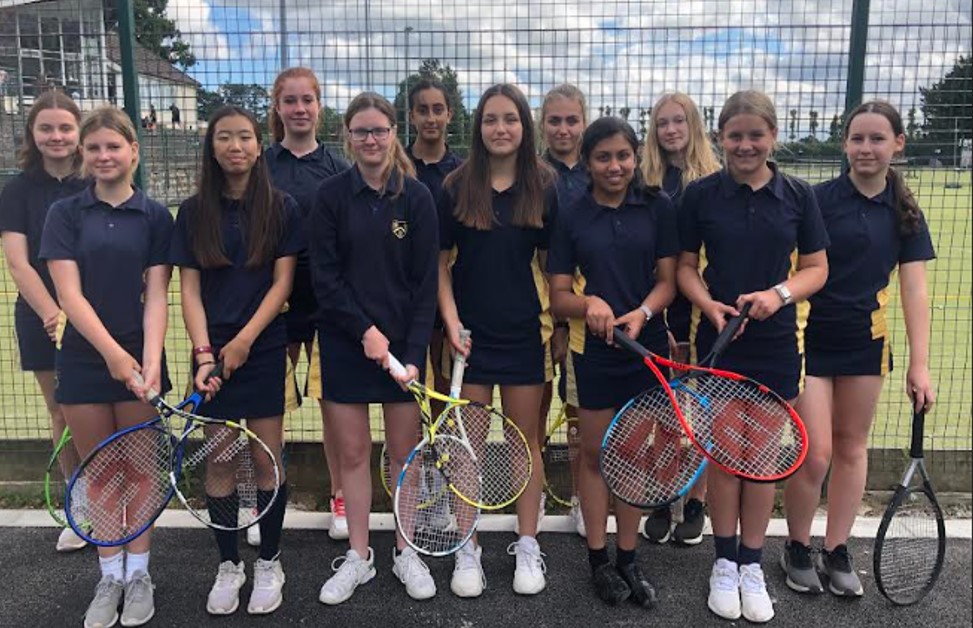 In the Under-13 district tournament, the Year 7 team became Silver medalists, losing by one point in the final. The Year 8 team lost to the overall winners in the rounds and won their play-off to finish 3rd overall. In the Uner-15 district tournament, the Year 10 A team won all of their games to become overall winners, and the Year 10 B team played brilliantly, winning Silver medals.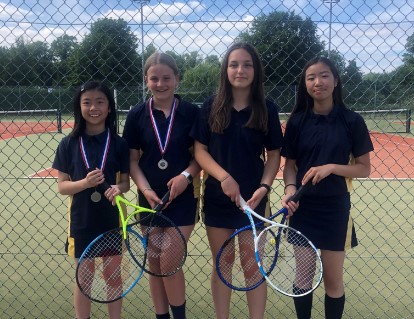 Poppy R and Chloe E got to the semi-finals of the National Girls' Schools Doubles Tournament at Harpenden in May. Congratulations!
Rounders
The Year 7 team demonstrated excellent teamwork and won all of their matches to become district champions. The Year 8 team showed great cooperation and true perseverance, and came 3rd overall, winning Bronze medals. Well done to you all.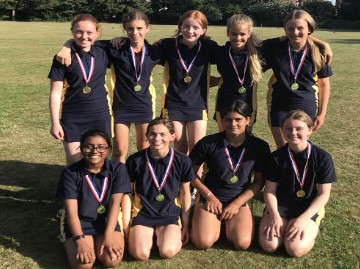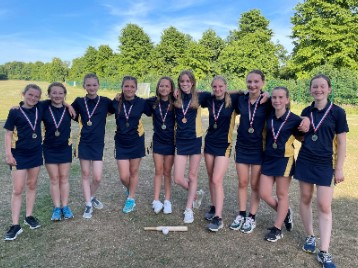 The Year 9 team won Silver medals at the District Championships, also demonstrating excellent teamwork throughout and improving in each match. The Year 10 team played outstandingly in all of their matches, getting all of their opponents out with time to spare to become district champions. The Year 11 team also became district champions, a particularly fantastic achievement considering they hadn't played for two years!! Well played all!

Leadership
Our Sports Leaders from across Years 10, 11, 12 and 13 have played a very big part in delivering a number of activities within school and in the local community. This term they organised the House League for rounders and tennis. Eighty-four Year 10 Sports Leaders also ran a multi-sport event for 240 Years 3-6 primary students.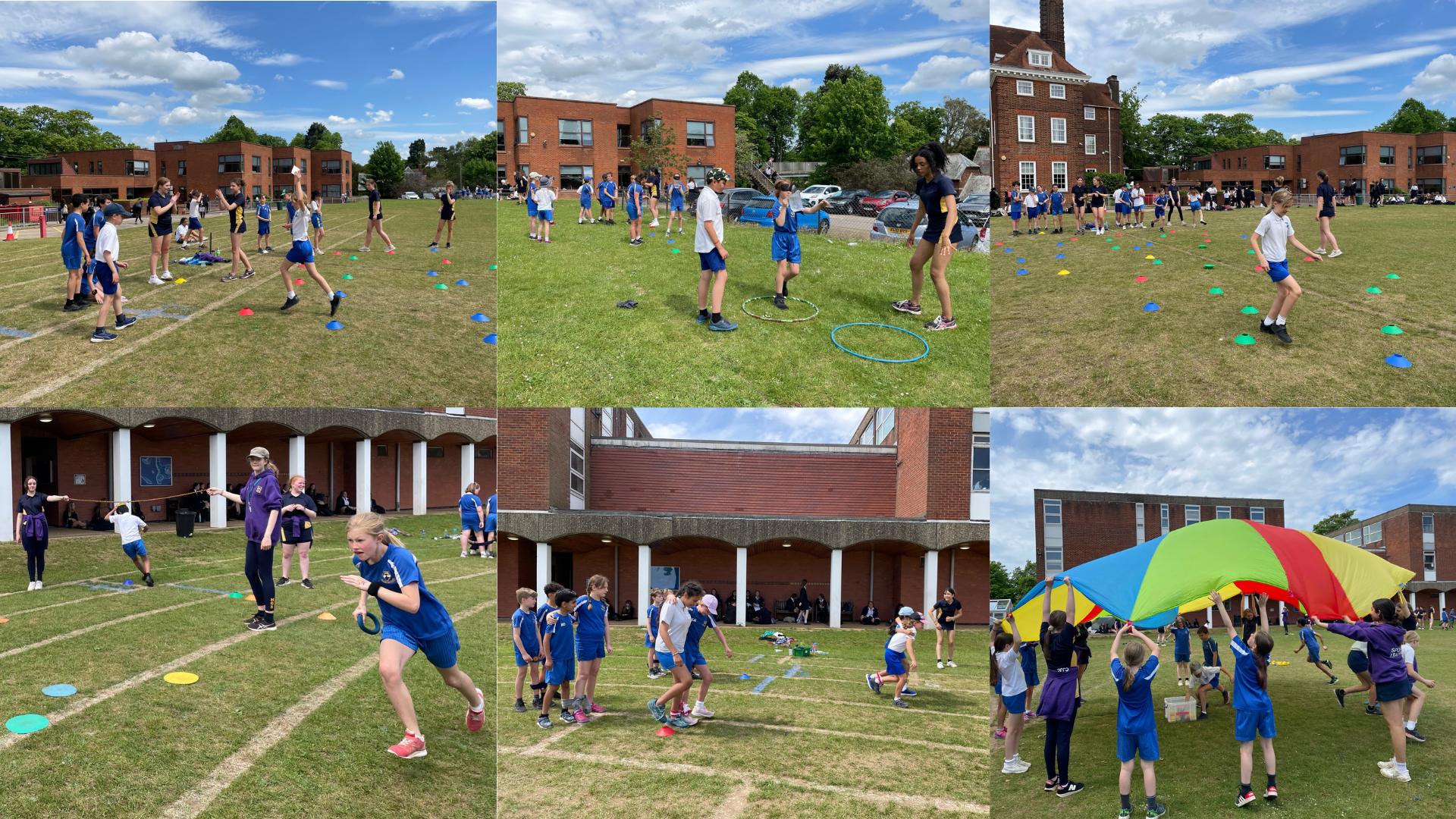 Gymnastics and Dance
Approximately 90 students from HGS, and 40 students from Whitehill Junior and William Ransom Primary schools, took part in the annual Gym and Dance Display for the first time in three years. There were two evening shows and one primary schools' matinee performance, which were wonderful! Former HGS students performed a piece especially choreographed by Dawn Maydom (former Head of PE) to show our gratitude to Mrs Manning for her wonderful support of PE and Dance at HGS over many years.
Thank you also to our Year 10 GCSE dancers who also performed a farewell dance for Mrs Manning in front of the whole staff. Well done to everybody involved for their hard work, dedication and brilliant performances, to make a very enjoyable show!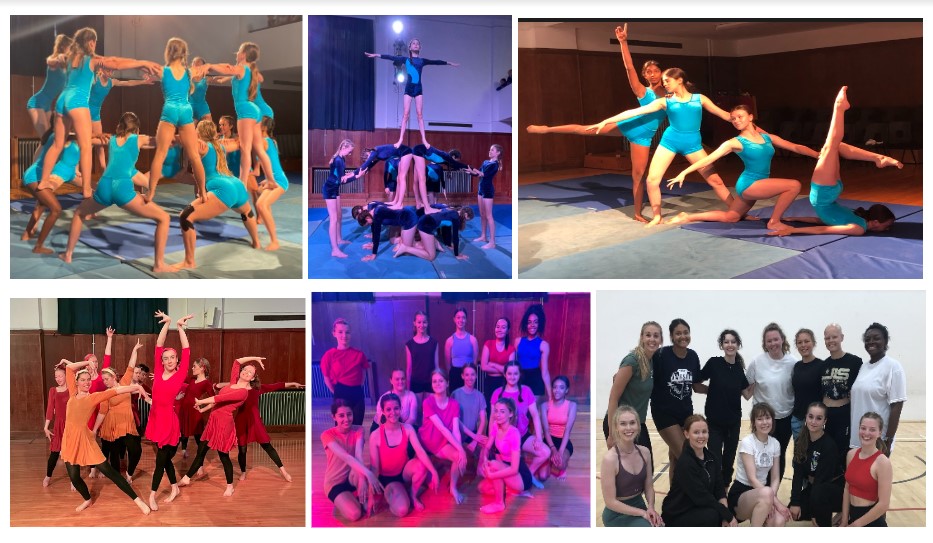 To Mrs Edwards on her retirement after 29 years at HGS, we want to say a very big thank you and enjoy your adventures! Mrs Edwards has taught across all Key Stages and courses, specialising in GCSE PE and GCSE Dance set phrase. She has been instrumental in shaping how the GCSE PE course is taught in school, and ensuring students reach their full potential in both the theory and practical elements. She has given more hours than we can count towards our extra-curricular programme, specifically coaching and running teams for cross-country, athletics, trampolining, netball and gymnastics, amongst many others. Her input has been greatly appreciated, and students have had some outstanding achievements under her dedicated leadership. These include the trampolining teams reaching the National Schools Trampolining Finals on numerous occasions, and a number of athletes qualifying to go to the English Schools Championships.
She has always been fully involved in all aspects of PE Department life and traditions, such as Sports Day, Form Running, the Lower School Gym Competition, and choreographing endless performances for the annual Gym and Dance Display. She has always taken on the role of choreographing the renowned finale and doing a fantastic job as Music Director. She has also been on our bi-annual Sports Tour to Valkenburg since 2009, coordinating the netball teams and hosting the popular tour quiz night.
Mrs Edwards is extremely organised, and generous with her skills and time, finding herself on district and county committees. She has coordinated the Stevenage and North Herts district leagues and tournaments for the last ten years. She has been on the county schools netball committee, taken on the role of the district netball rep and managed the Year 10 inter-district netball team for a number of years.
Outside of PE, Mrs Edwards has coordinated the Year 8 residential trip, and run the Duke of Edinburgh programme in school and across the district, with thousands of students achieving the Bronze – Gold awards. What an amazing accomplishment.
We are so grateful for your passion for PE and sport, and the years of service you have given over and above, to provide opportunities for students to enjoy and succeed in PE, both in and out of lessons. We are really going to miss you as a department, and we wish you all the very best and a well deserved rest.
Well done to everybody who has taken part in a very busy schedule in school this term, and congratulations on some fantastic sporting achievements outside of school.
Take care and all the best to anybody competing over the summer holidays.
Miss Evans and the PE Team