Sixth Form Weekly Newsletter | Autumn Term, Week 4 | Date: 30 September 2022
REPORTING STUDENT ABSENCE
SCHOOL NEWS AND ANNOUNCEMENTS
Message from the Headteacher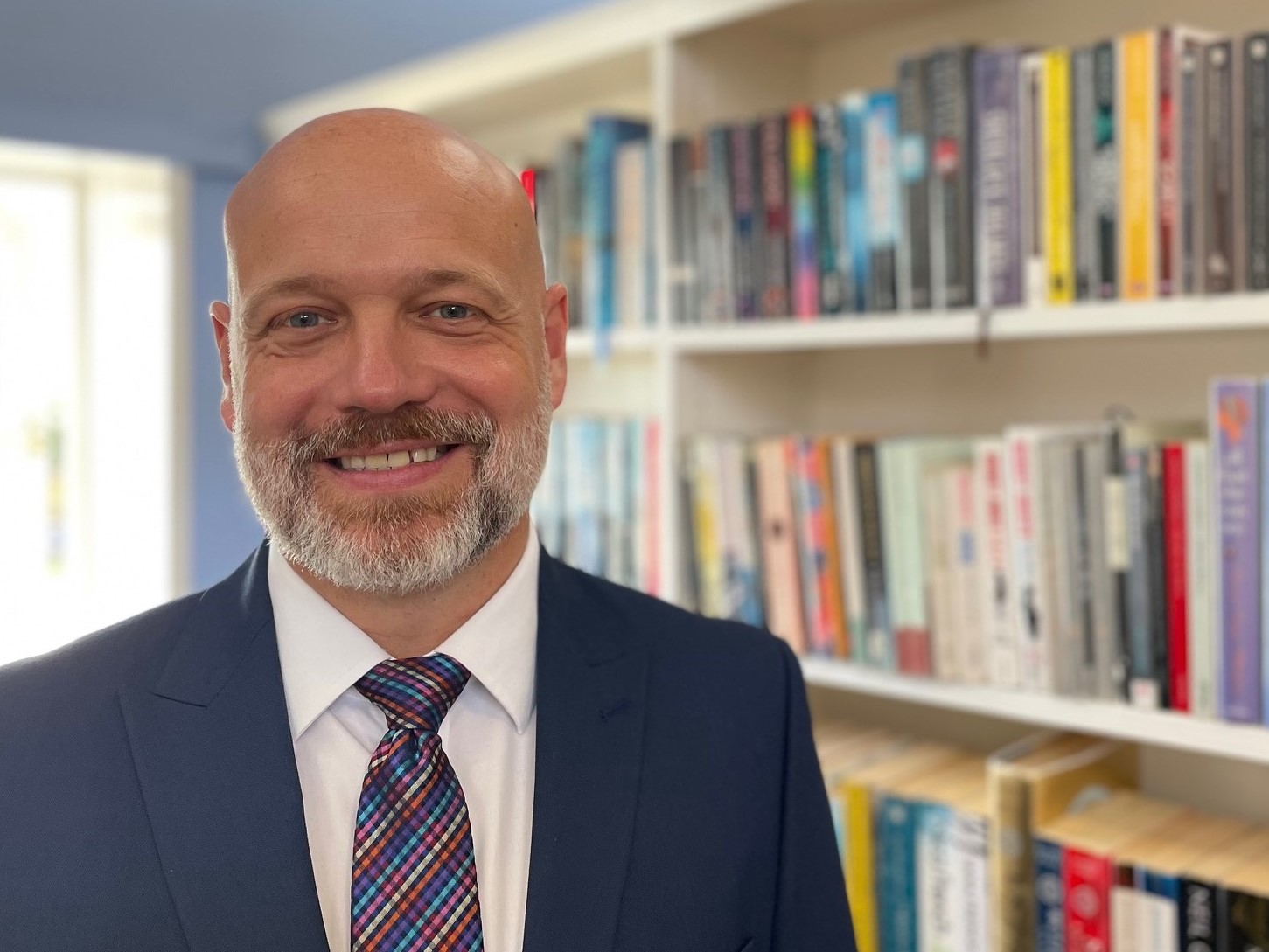 Welcome to this week's edition of the Newsletter.
We have enjoyed two very successful Open Mornings this week, welcoming more than 600 people in total into our school on Tuesday and Thursday. As part of the events, families were taken on tours by Sixth Form and Year 7 students, and every single student involved did a fantastic job.
The feedback I received on the mornings included comments about our students being confident, engaging, proud of the school and excited about being here. If your child was involved, I do hope they have spoken to you about it because they should be very proud of how well they represented the school. We have one more Open Morning next Wednesday and I am looking forward to seeing our students proudly show our school once again.
Since last week, I have been holding assemblies, in conjunction with Mrs Freeman and Mr Jones, focusing on the qualities and values that are important to us here at HGS. Students are now discussing this in their Tutor Periods and collectively we will be redefining the values that are central to all that we do. Please do talk to your child about this, as once the students' views have been collated and reviewed I will be involving parents and carers in the process too. Here is a flavour of some of the values and qualities that have been mentioned so far: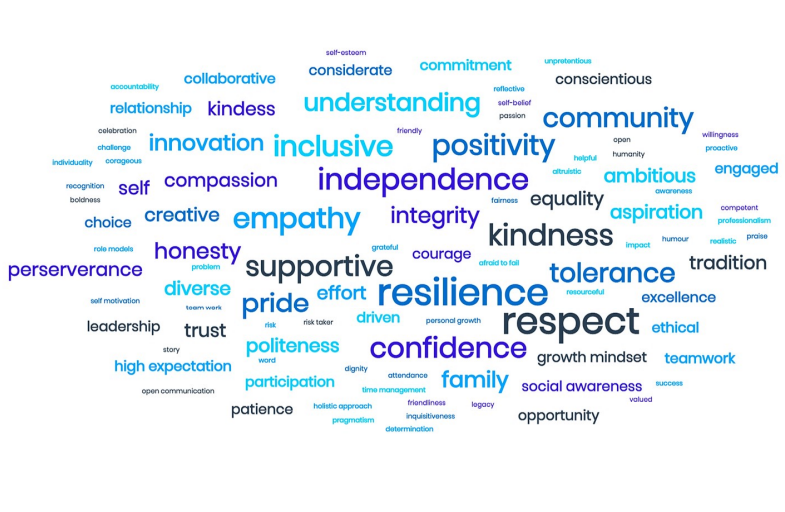 I am writing this having just returned from spending breaktime with some Year 13 and Year 7 students who have recently celebrated their 18th and 12th birthdays. The Year 13s offered some really important advice to the Year 7s: they spoke about taking advantage of the opportunities that would come their way during their time at HGS; not worrying about end-of-year assessment; taking time to enjoy their time at school; and not wishing their time away waiting to be a Sixth Form student. The Year 7s spoke of being really settled in school already; one described being here as a privilege and another of being happy to be part of what seemed like a big family. It was an absolute pleasure to spend my breaktime with these students today - if you are reading this - thank you!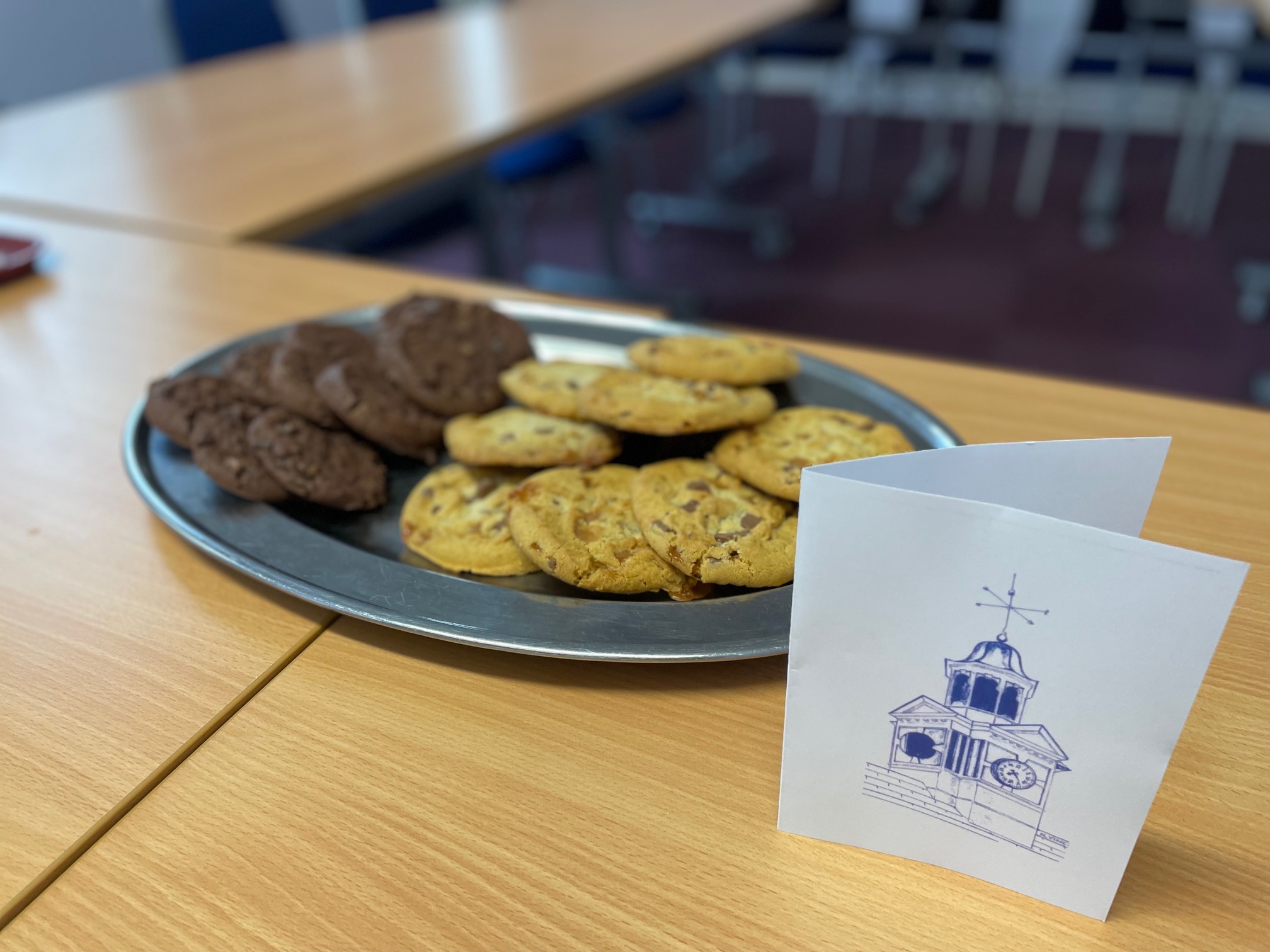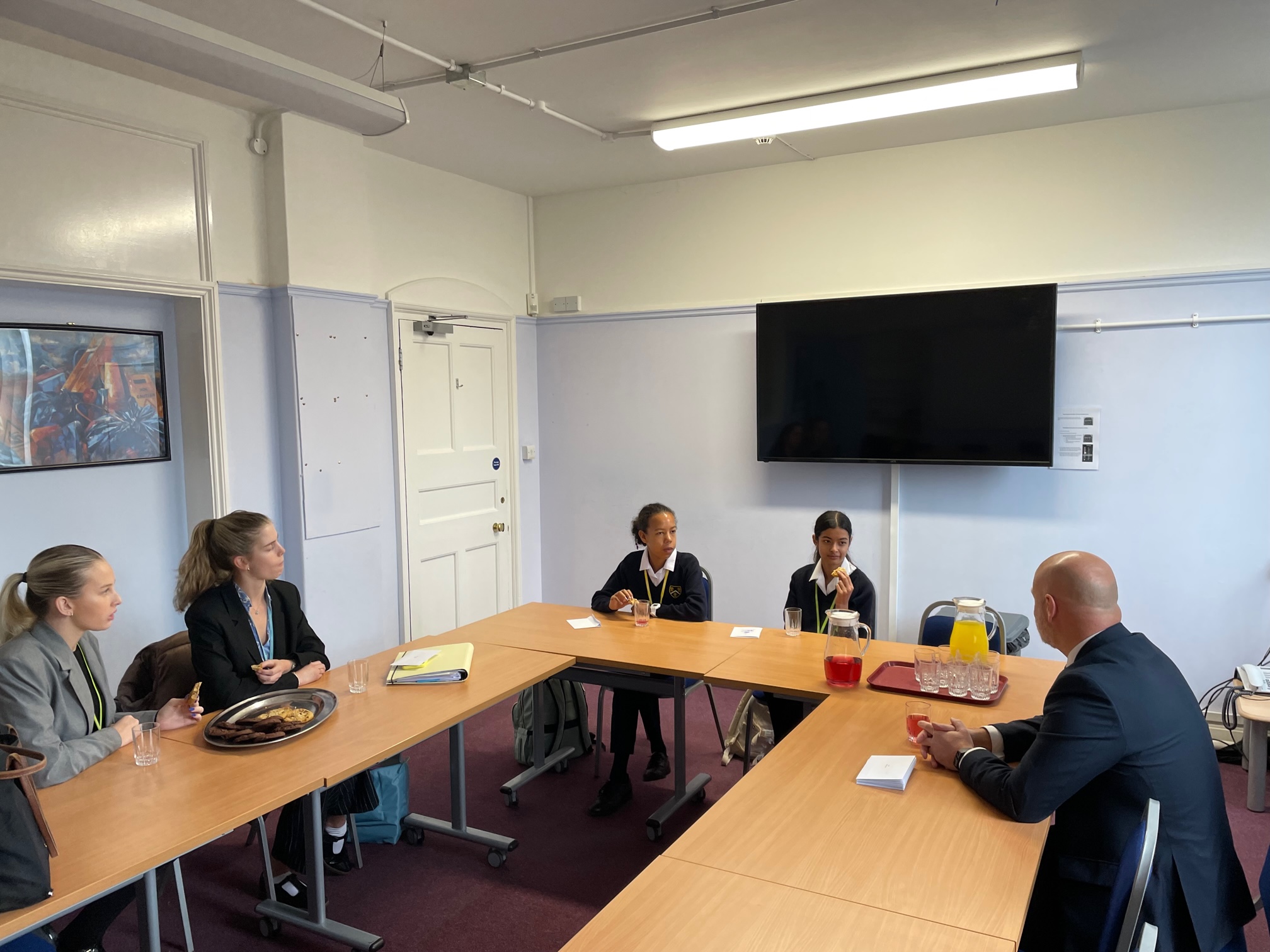 This week also saw some school trips taking place with a Business trip to the Museum of Brands and a Drama trip to see An Inspector Calls. Next week sees the Year 11 Geographers heading off to Sheringham. Caythorpe for Year 8 isn't too far away either, so lots going on outside the classroom, which is great to see. I also know that there were more than 500 students participating in extracurricular sport last week, which is simply fantastic.
Have a good weekend.
James Crowther
Reach for Mars
We were privileged to hear from Paul Meacham, an Airbus spaceflight engineer, who gave an amazing talk to some Year 10s and Year 12s this week called 'How to Build a Mars Rover'.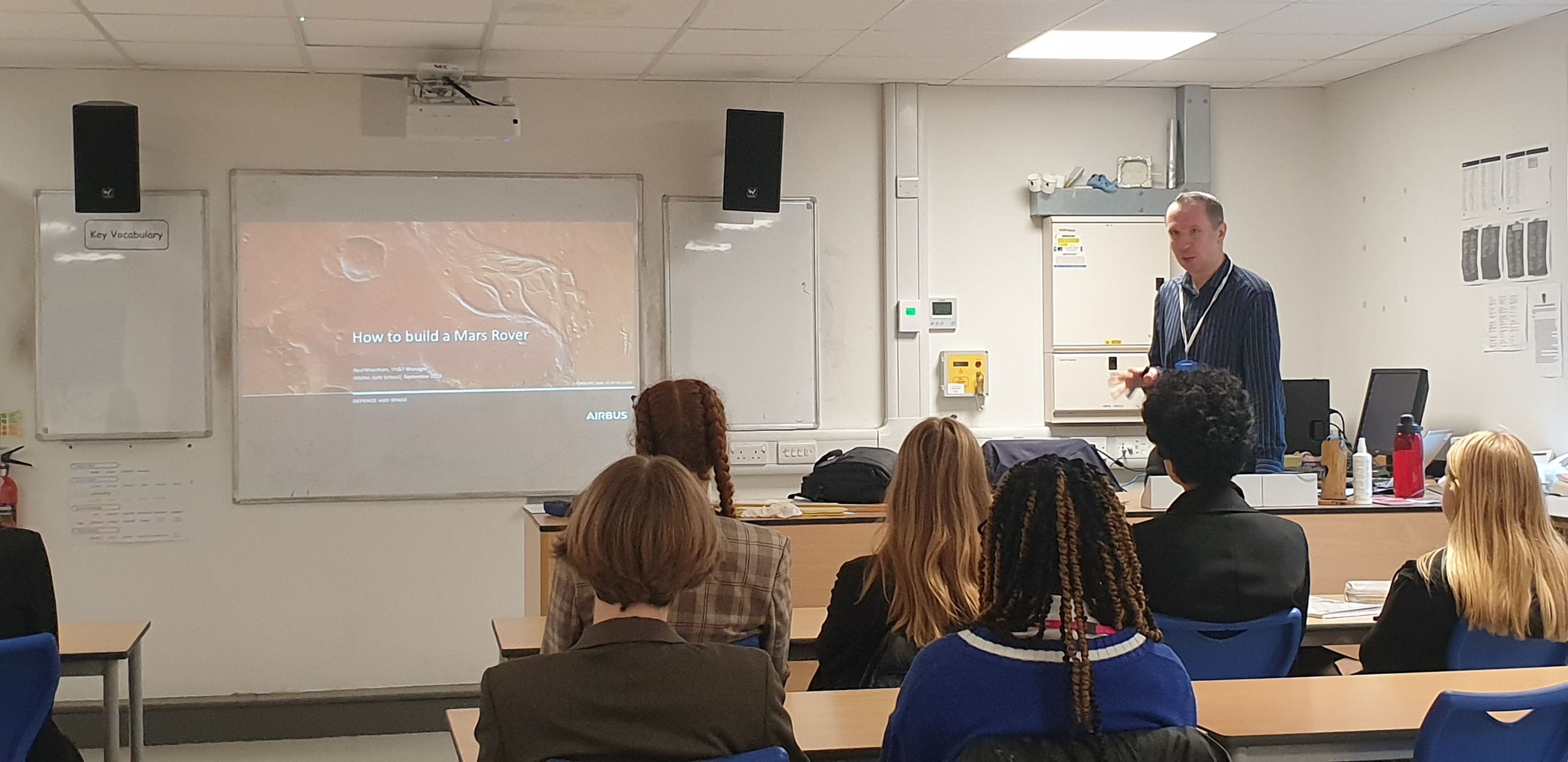 The sky's the limit!
Our intrepid Year 12 students Hana and Amelie successfully completed their skydive to fundraise for Isabel Hospice last weekend! They managed to raise £581 for the local charity. Very well done to you both!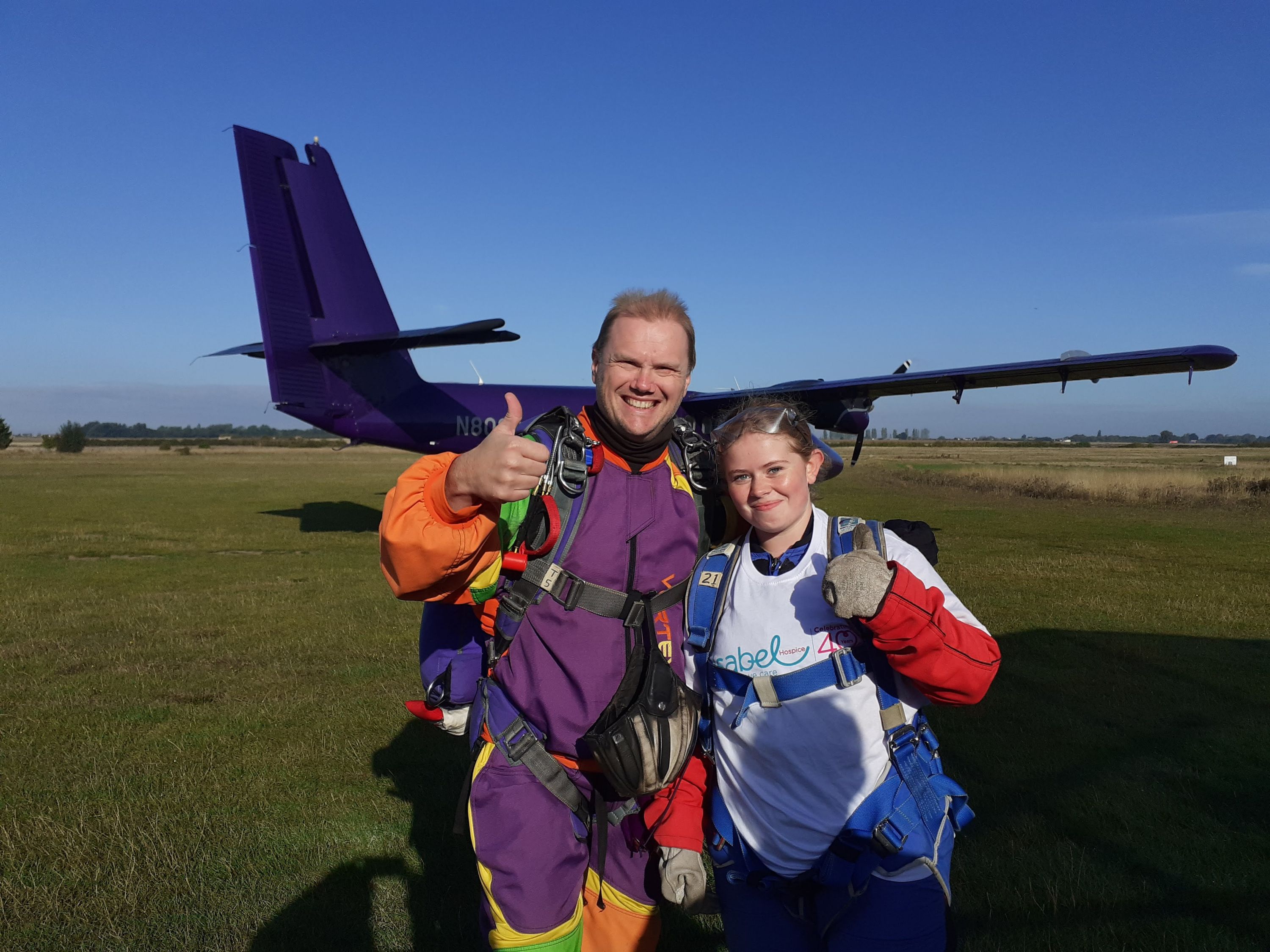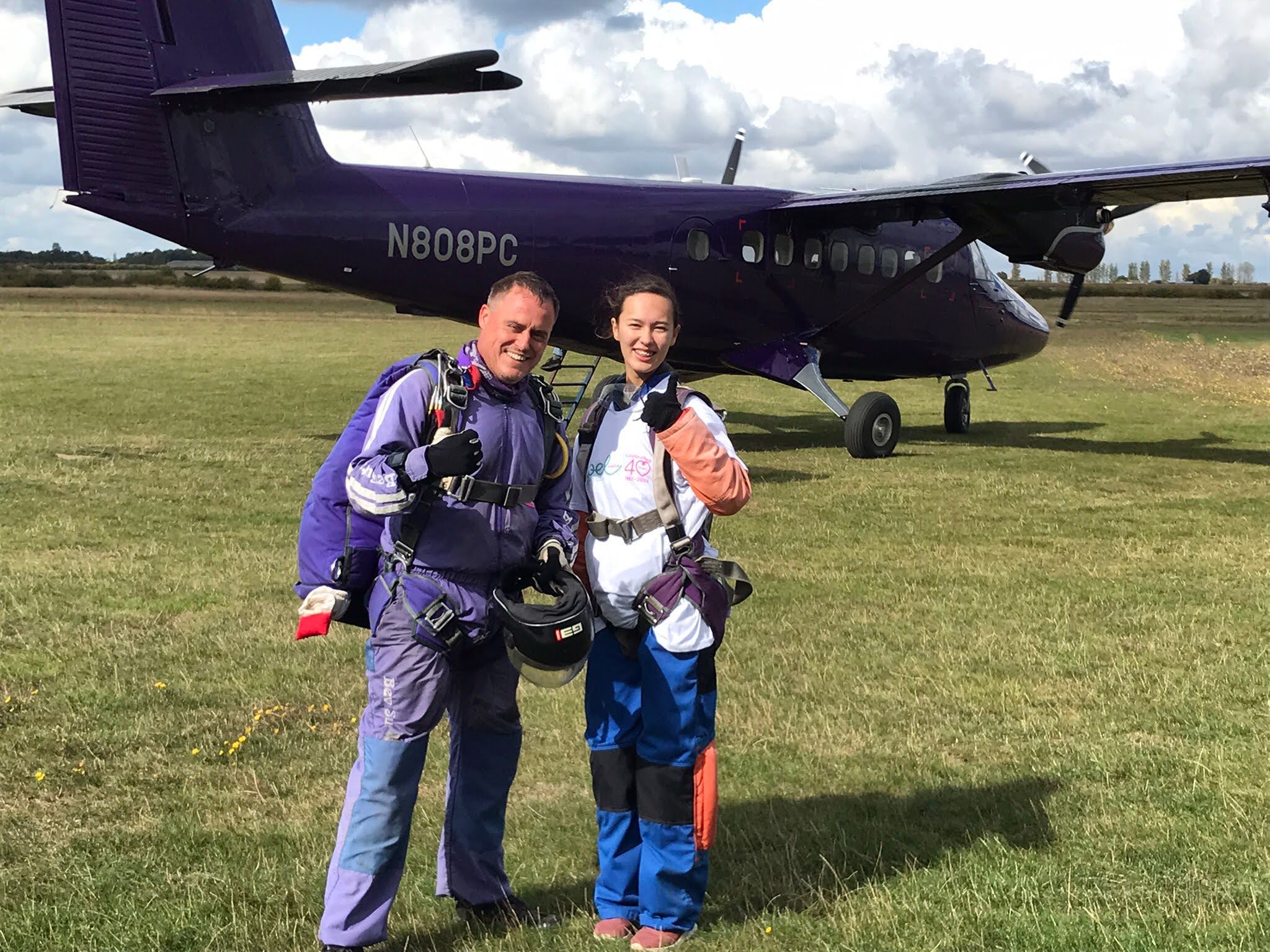 It's not too late to donate:

Year 12 Fashion & Textiles
This week Year 12 have been learning about garment construction, garment shaping using darts and how to complete a range of different seams. Very professional work Y12, well done!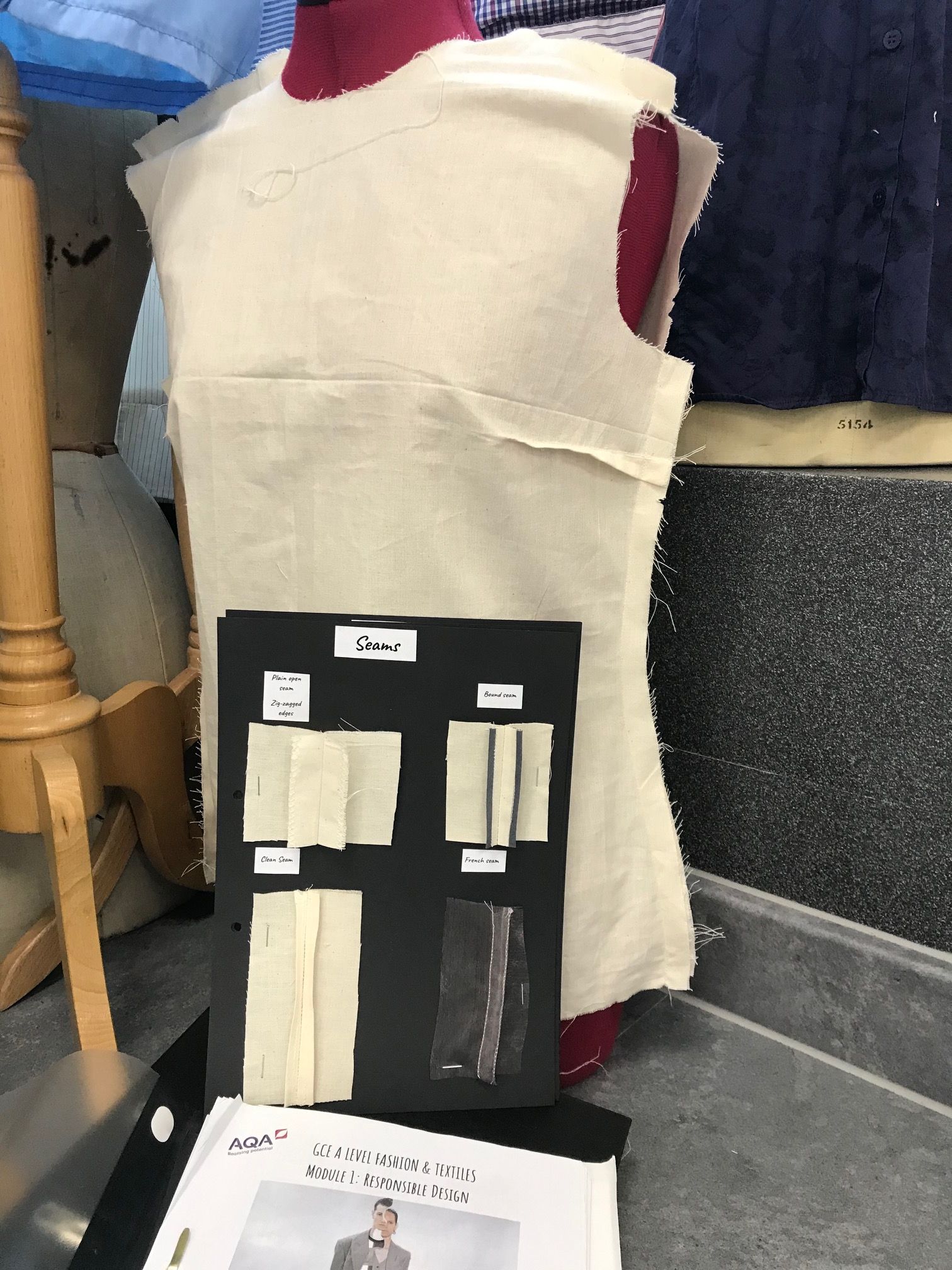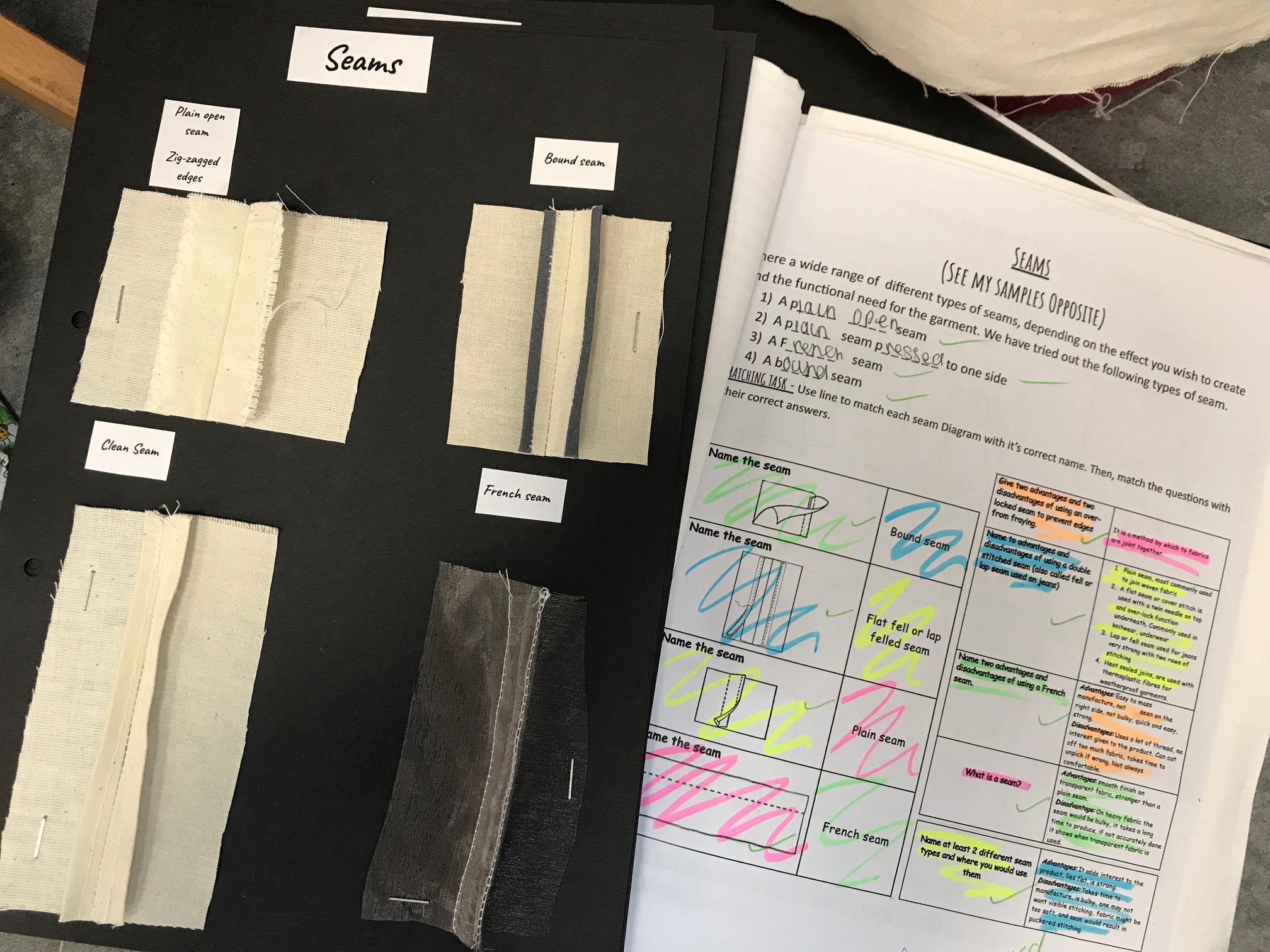 Library news
Wanted - Library parent volunteers
The Library is incredibly busy at lunchtime, 12.30pm-1.30pm, with students reading, playing games, working, choosing books and much more.
We would really appreciate some help with shelving books and just being another adult presence. Full training will be provided.
If you are interested please ring the school on 01462 621300 and ask for the Library, or email library@hgs.herts.sch.uk. Please consider which day of the week you would like to help.
Thank you so much,
Mrs Mary Goose, School Librarian, and Mrs Jenny Woods, Library Assistant
Library Goblins
Our Reading Group, aka Library Goblins, have started the new term by decorating their corner of the Library with named hearts and favourite book recommendations. Their meetups have been so popular, they would like an extension to their nook!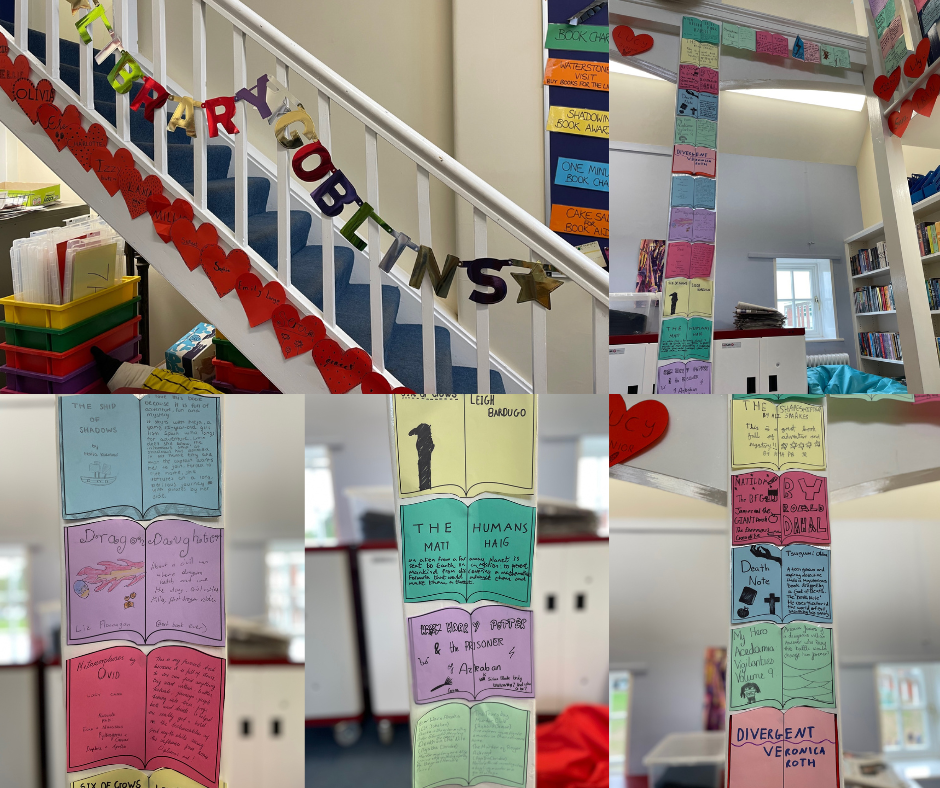 Food Club
For their first session of the term, Food Club made Butterfly Cakes. Electric whisks were used to get a smooth batter and sharp knives to cut out the 'wings'. Great recap on practical skills - good work everyone!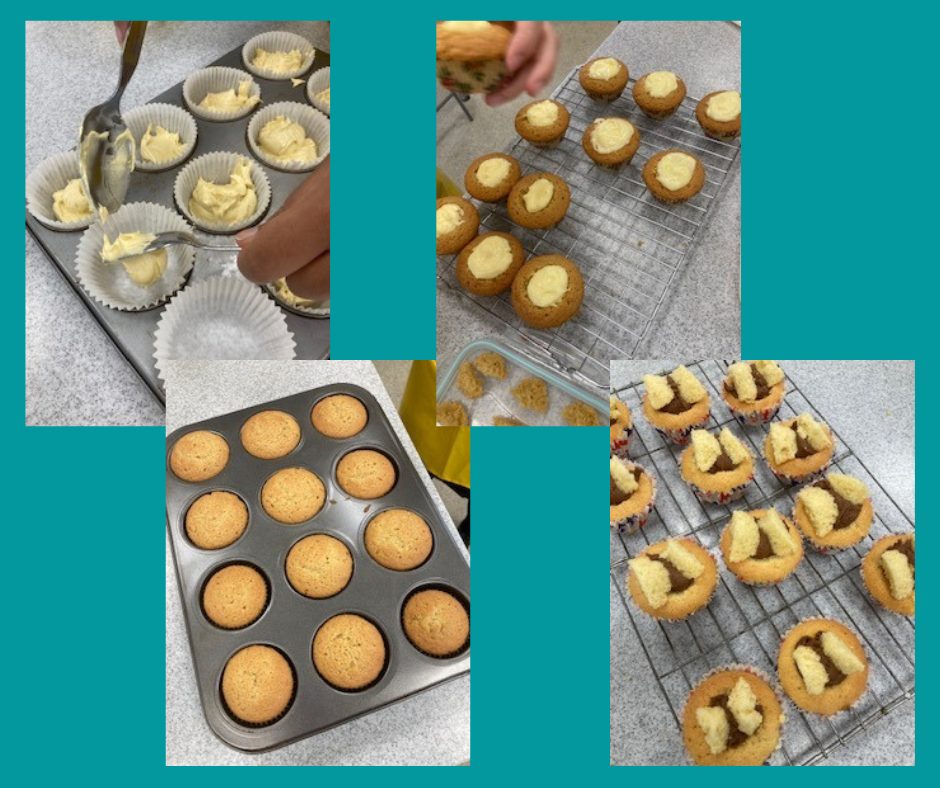 Aberystwyth Business School
2022 Business Challenge
The competition, aimed at Years 12 and 13, offers opportunities for students, in teams of 3-5, to showcase their skills and talent in their choice out of 5 core business areas, as well as the chance to build both industry and degree-standard skills and knowledge.
It will launch on Monday 3 October and run until March 2023. Students will be given the opportunity to engage with academics from Aberystwyth Business School to complete a chosen task related to the 5 core business strands.
Throughout the competition, registered teams will be given access to specialist resources and expert academics to support an independent research project into their chosen competition task, before showcasing their findings in a 3-minute video (to be submitted by March 2023).
The winning competition entry will also win £2000 for their school or college and £200 for each student in the team.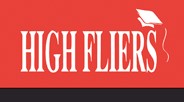 Degree apprenticeships
Thursday 13 October, 2pm
Year 12 & 13

A one-hour programme on degree apprenticeships broadcast live from a TV studio in central London
The session will provide Year 12 & 13 students and their parents with the very latest news, information and guidance about degree apprenticeships – the fast-track, tuition fee-free entry route into graduate careers such as engineering, technology, banking & finance, management and even law.

To enable your students to watch the free programme – either live or on catch-up – simply register your details and we will send you a link for the programme next week, which you can forward directly to students and their parents:


The live programme includes:

• a comprehensive introduction to degree apprenticeships, the different types of programmes currently available, how they are funded, the qualifications they lead to, and how they offer an alternative route to the graduate job market

• case studies and insight from current apprentices working in degree apprenticeships in different industries, professions and business sectors

• exclusive new research revealing which employers will be offering degree apprenticeship programmes for Sixth Form leavers in 2023

• expert advice and guidance from leading employers on when and how to apply, and the selection process for degree apprenticeships

• the chance to put your questions directly to senior recruiters at the country's top degree apprenticeship employers

The programme will be presented by Martin Birchall, Editor of The Times Top 100 Graduate Employers and research director for the Department for Education's Top 100 Apprenticeship Employers.

It is being supported by several of the UK's best-known degree apprenticeship employers, including Rolls-Royce, PwC, Lloyds Banking Group, the NHS, BDO and the Royal Navy.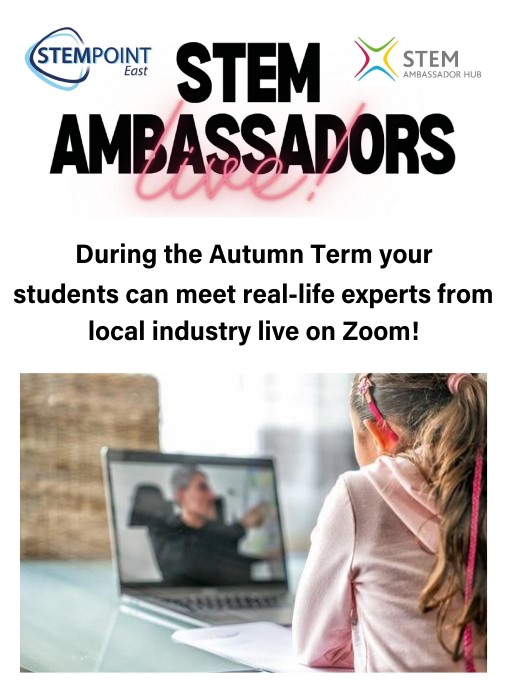 Monday 3 October, 10am
Sarah Higgs, Metropolitan Police
Field of Expertise: Forensics - lab work and crime scene work
How to become a Forensic Examiner
I will explain the qualifications and skills required, including the expected career path. I will then discuss my job role in the lab and at crime scenes, and how the two roles complement each other. Finally I will share what forensic job opportunities arise in my organisation.
Tuesday 4 October, 10am
Ian James, Royal Veterinary College
Field of Expertise: Stem cell biology
Scientific research: What is my job and how did I get here?
I will give a brief overview of my research into stem cells in horses, cats and dogs, and explain what I do day-to-day as a scientific researcher. I will talk through how I ended up doing what I do despite never really knowing what I wanted to be when I grew up.
Wednesday 5 October, 9.45
Yasab Samo, KFC
Field of Expertise: Cybersecurity
Cybersecurity and today's world
I will give an overview of what the emerging technologies are, what cybersecurity is, why it is important and how we can benefit from learning information security aspects.

REGISTRATION
Thursday 6 October, 10am
James Betts, Viridor
Field of Expertise: Rotating equipment - turbines, pumps, fans etc.
The power of steam
Steam turbines produce approximately 70% of the worlds power. They are used in submarines, ships, industrial processes and most power stations and oil refineries all over the world. Find out more at this presentation

REGISTRATION
Friday 7 October, 9.30am
Jack Dove, MBDA
Field of Expertise: Engineering
Higher education through the self-study route
I took my engineering degree through the Open University while holding down a part-time job. It required a good bit of self-discipline, but it helped to expand my engineering horizon beyond the one field I started in.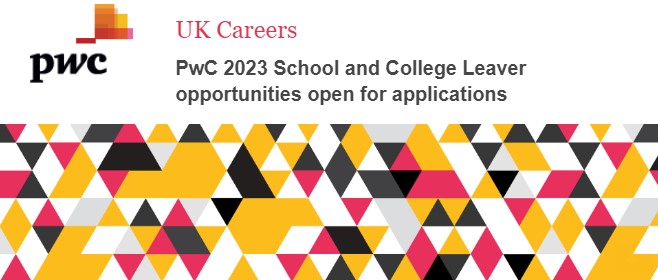 PWC's School and College Leaver Programmes are designed to help students develop their business skills through real client work, while also completing formal training and studying towards qualifications. Explore these opportunities here.

Next Step Bristol
Year 13
This virtual programme is for students who are in Year 13 in September 2022 identifying as Black or Asian.
The programme focuses on the lived experience of Black and Asian students at the University of Bristol. Successful completion of the programme provides a guaranteed contextual offer or interview to all courses at the University of Bristol (providing the student meets entry requirements). Students can find more information here, and apply via this application form.

Applications close 30 September 2022.
Discover Economics
Thursday 17 November. 1.30-4pm

Academics from the University of Bristol School of Economics are organising a half-day schools event (1.30 – 4.00pm) at Bristol Cathedral Choir School.
Sudents will hear from Bank of England economists and Rupa Patel and Jack Meaning (authors of Why Can't We Just Print More Money), and take part in an economics challenge. They will also have a chance to find out more about economics degrees.
This event is suitable for any Year 11/12 student, whether they are studying economics or not, and is part of the regular Bristol Festival of Economics. Please complete this expression of Interest form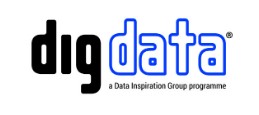 Digdata are thrilled to announce their upcoming live virtual work experience and live online career panels for the Autumn term with Experian and Lloyds Banking Group.
Sessions are aimed at First Step (KS3) students and Next Step (KS4 & 5) students.
Wednesday 5 October, 5.00 - Experian "Next Step" live online career challenge - How can you help Alton Towers get more visitors to their theme park in 2023?
Thursday 6 October, 6.30 - Experian live online career panel - We invite students, parents, teachers and career leaders to discover more about their career opportunities in data!
Wednesday 19 October, 4.30 - Lloyds Banking Group "First Step" live online career challenge - Can you help Lloyds Bank decide who can borrow £1,200 to buy the new iPhone 14?
Wednesday 2 November, 5.00 - Lloyds Banking Group "Next Step" live online career challenge - Can you assess our customers' financial situation and make some recommendations on how different groups of customers should approach their upcoming purchases?
Thursday 3 November, 6.30 - Lloyds Banking Group live online career panel - We invite students, parents, teachers and career leaders to discover more about their career opportunities in data!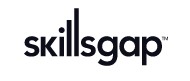 About Skills Gap

Skills Gap is a career accelerator that runs insightful workshops for young people aged 15-19 ­– because it's never too soon to think about building your skills for a competitive edge in your future studies and career.
We're offering a range of intensive workshops this autumn, all designed specifically for 15-19 year olds and delivered to small groups by experienced industry experts:
Careers in Hacking
Saturday 1 October

Top-flight businesses and governments the world over are recruiting for a new elite force: a band of ethical hackers charged with protecting our most sensitive information and the infrastructure that powers our everyday living. Our online workshop is taught by Daniel Wilkinson, a Security Consultant at NCC Group. He gives a beginner's guide to ethical hacking and the skills you'll need to succeed, with practical experience of hacking your way into a vulnerable online storefront.
AI in Astrophysics
Saturday 8 October

With new telescopes powerful enough to see galaxies formed in the wake of the big bang, our online workshop introduces the AI helping scientists to interpret this data to identify stars and plot the shape of the universe. Taught by Joe Sims, an AI PhD student at Leeds University, you'll step into the inspiring world of AI in astrophysics and get first-hand experience of using a neural network to classify stars.
AI in Medicine
Saturday 8 October

Medicine is on the verge of an Artificial Intelligence revolution – from pioneering surgeries to algorithms that predict future health issues. Our workshop is delivered online by med-tech experts, and will introduce you to key AI trends in medicine, its influence on global healthcare, and the tech skills you need to get ahead. You'll also take part in an exciting hands-on diagnostic exercise using AI modelling tools.
Blockchain & Cyrptocurrencies
Saturday 15 October

Blockchain is revolutionary. It powers the cryptocurrencies that are changing the face of finance and offers safer ways to store sensitive data. But what's next? Our online workshop, delivered by a blockchain expert, provides a fascinating insight into the world of cryptocurrencies, how they are analysed and traded, and blockchain's ongoing potential. During the workshop you will get first-hand experience of coding in Python to build a systematic trading strategy for cryptocurrencies.
Coding for Game Design
Saturday 22 October

With one third of the world's population already estimated to be gamers, the gaming industry offers one of the hottest career tickets today. Our online workshop gives you a unique insight into the latest trends from multiplayer games to game streaming. Led by Josh Hills, a programmer on some of the world's largest multi-player games, including Runescape and Horizon, you'll get first-hand experience of developing and enhancing a physics-based game prototype and discover the skills you'll need to succeed.
AI in Engineering
Saturday 5 November

Finding new and optimal ways of doing things is at the very core of engineering. Which makes it the perfect partner for AI and machine learning, from smart production lines to image processing technology that allows machines to see. Our online workshop is led by civil engineer and data scientist, Johan Hagstrom, who will introduce you to key AI algorithms and trends. You'll also get hands-on experience with Python, being guided through a computer vision algorithm that can detect cars on the road – a peek into the world of self-driving vehicles.
AI in Finance
Saturday 12 November

The world of finance has been an early adopter of machine learning, from fraud detection to finance chat bots, yet it's still just touching the surface of AI's potential. Our workshop is led by Chelsea Murray, a data scientist at ING with a Masters in Machine Learning and Machine Intelligence from University of Cambridge. Chelsea will introduce you to the vast range of financial AI applications and give you practical experience training a machine learning algorithm to predict credit card fraud.

NHS Allied Healthcare Work Experience
For students interested in
Nursing
Midwifery
Paramedicine
Physiotherapy
Occupational Therapy
Dietetics
Radiography
Prosthetics and Orthotics
Speech and Language Therapy
Pharmacy
Applications are now open and will remain open throughout this academic year, with the first programme taking place on 2 October.

During the work experience day, students will follow two patients from their initial presentation to recovery. Students will observe the healthcare professionals as they interact with the patients and with each other. They will have an opportunity to ask questions and gain knowledge through teaching.

This will help students to make an informed decision about their career and give them the opportunity to learn how healthcare professionals work together as part of a multidisciplinary team.
Each work experience day is completely different and students will be able to build up their knowledge of NHS careers as they see different patient cases and healthcare professionals work in a variety of settings, such as in a hospital and in the community.

Students will also receive certificates as evidence of participation. Those who complete the entire five-month programme will be awarded a Highly Commended Reference from the Presidents of Medic Mentor.

Places are £10 a day to cover administrative costs and run the tech on the day.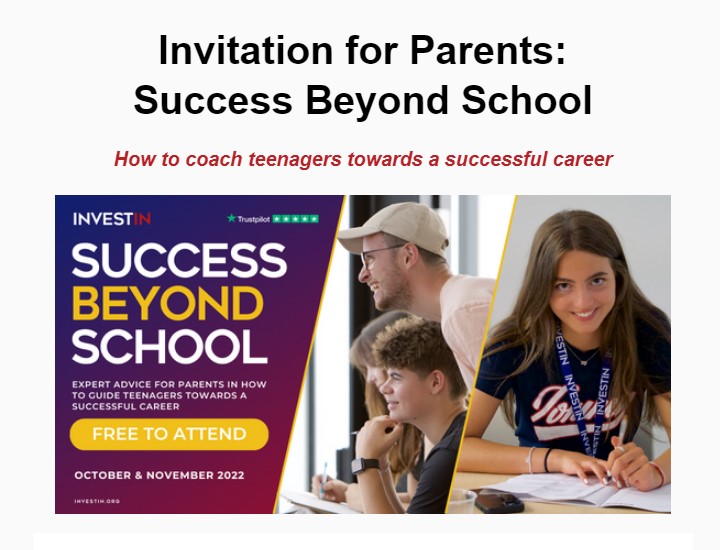 We are delighted to announce the first events in our Success Beyond School series for this academic year. These are live online seminars featuring career experts, designed to help parents amplify their children's career potential. The events are for parents of students aged 12-18 and are free to attend.

12 October: Making it in Medicine
Expert advice on how to get into medical school

16 November: Future-Proofing Students
Preparing students for the jobs of the future

30 November: Finding a Future in Finance
Gaining the skills for a career in Finance