Examination Results 2019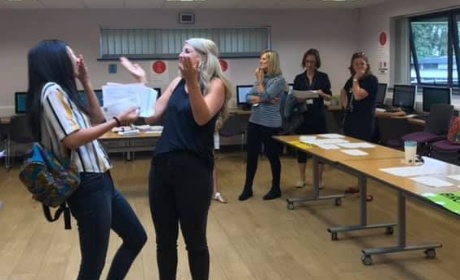 A level and BTEC
There was a significant improvement in overall outcomes for this year's cohort. All students achieved passes in every subject, with a significant increase in the top grades. For many of the students this also meant the achievement of a place at their chosen university.
Two students achieved 4 A*/A grades: congratulations to Devon Cooper and to Cheryl Yeow, who gains a place at Cambridge University. Further congratulations to Amy Nichol who also gains a place at Cambridge.
Well done to the following students who all achieved 2A*s and an A grade: Lily Holloway-Davies, Megan Kemp, Alice and Emily Manning and Thea Logan.
Headteacher Frances Manning, said "We are delighted that our students have been rewarded with these great results. It is testament to their hard work and commitment and that of their teachers. It is really important for us that our students can leave Hitchin Girls' well equipped for their future career choices and it is very satisfying to see this being achieved today"
GCSE
Students at HGS have achieved another fantastic set of GCSE results.
Outcomes across the board were impressive, with Isabella Richards, Lauren Bearman, Amelia Stanyer and Emily Albone gaining the highest achievement of the cohort.
Headteacher, Frances Manning, said "We are thrilled that the hard work of our students has been rewarded and that their efforts and those of staff and parents have delivered such great results. There is a significant increase in outcomes across all our headline figures and there are also so many individual success stories. Our students are all well placed for progressing in the next stage of their education and we wish them every success moving forwards."
A more detailed breakdown of the A level and GCSE results will be available on the school website shortly.