Headteacher's Blog - 10th September 2021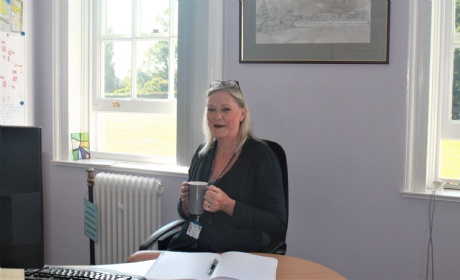 What a great week this has been!
Our first full week back is done, and it has been such a joy to have all of our students and staff back and able to enjoy greater freedom around the school site. Over the course of the week I have managed to visit each form during tutor period and, with the exception of a few who were doing baseline tests (Year 7) or having their lateral flow tests at that time, was able to welcome them and have a bit of a chat. Aside from the 'having to get up early' discussion, there was a real feeling of being glad to be back and looking forward to resuming so many of the activities that have needed to be suspended over the past year.
Uniform is looking very good so far — a big thanks to all of you who have kitted out your children and had that great shopping day of buying the school uniform during the summer. The vast majority look really professional and I am confident that the few issues that we have had this week will be resolved by next week as expected.
Lateral flow testing finishes today, and I would like to send a massive thank you to the team of volunteers who have taken on the task of processing 1982 tests over the last 8 school days. There have been a few positive test results, and so we have been able to protect our community by picking these up for a further PCR test and isolation. Please continue to support us by keeping up your lateral flow tests at home and by not sending your child to school if they have any Covid symptoms or are unwell. Just a reminder though - close contacts no longer need to stay away from school unless they have been told to do so by Test and Trace or if they have symptoms themselves, in which case they should get a PCR test.
It was wonderful to welcome the Sixth Form back last Friday, and feedback from Year 12 students on the induction programme has been very positive. Both those returning to Sixth Form and those new to the school have commented that the activities really enabled everyone in the year group to integrate and get to know each other in their new forms. In addition, Year 12 were really grateful to hear from the Year 13s about their top tips for their first year of studies. Many thanks to Kate and Alex for delivering inspirational assemblies about managing and balancing challenges both inside school and beyond, and to the whole post-16 team for their work.
Today I was delighted to host the North Hertfordshire secondary Heads' group here at Hitchin Girls'. This group comprises secondary Headteachers from Hitchin, Letchworth, Baldock and Royston, along with those from The Valley School in Stevenage and the Education Support Centre (ESC) in Hitchin. These local groups meet across Hertfordshire and form a really supportive network for Heads, enabling us to work collaboratively and also discuss and address the issues which are affecting us all. We have been meeting remotely for 18 months, but being able to meet colleagues face-to-face was so much better. We worked very hard, but there was a lot of catching-up conversation too, as well as physically meeting colleagues with whom we have been working, but never met!
A first update on the House Cup after the first event of the year - Year 7 House presentations.
In joint 1st place - 7J and 7R; 3rd place - 7A; 4th - 7T; joint 5th - 7B and 7F; 7th - 7C; and in 8th place are 7P. A great start, and keep an eye out for progress over the coming weeks.
So many activities are being planned for this term and more information will come out to you all soon. It has been lovely to find the Library so busy this week after having been completely closed for so long. As the staircase to the Library is outside my office, I have been able to see for myself just how many students have been going to borrow books and generally rediscover that lovely space.
We had our first new-style staff briefing this morning in the Drama Studio, where colleagues will come together to share tips and ideas for teaching and learning. It was good to have everyone together in this forum and I am looking forward to this regular sharing of good practice each week.
And lastly from me, some staff news: a warm welcome to Miss Williamson in the PE department; she will be with us for this term.
Last weekend we had a number of staff who were involved in half-marathons or 10k runs - congratulations to Miss Evans, Mrs Cole and Mrs Coe who each completed a half-marathon and to Mrs Hone for her successful 10k. We have some other staff who are training for forthcoming events and I look forward to reporting their successes in future editions of the blog.
Next week I am looking forward to announcing the name for my blog; the staff have been asked to suggest ideas and a small prize will be awarded to the winning entry!