Headteacher's Blog - 17th September 2021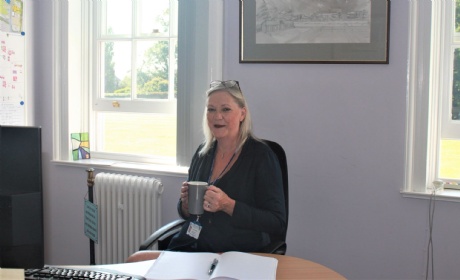 Today sees the end of the first two full weeks of term, and I am very relieved that we have now been able to run the full timetable cycle and know that everyone was in the right place at the right time for their lessons. Many thanks to Mr Jackson for his amazing timetabling skills that make this seamless for us all.
Homework Club started up again this week, and it has been lovely to see students taking advantage of this space and time after school. There is still capacity for more students; anyone is welcome to come and use the computers, and they do not need to stay for the full hour.
On Tuesday we held our first Academy Board Trustees meeting of the year, formerly known as Governors' meeting. At this meeting I presented the School Improvement Plan for this academic year and Mrs Mills presented a review of the GCSE and A Level grades from the summer. It was lovely to be able to have our Trustees all together in the room again, and there was a lot of good discussion and questions about a whole range of matters around the management and running of the school. We will be seeking new parent Trustees very soon, so please watch out for a message from us regarding this. Our parent Trustees are a vital part of the Board and it would be great to have a good field of candidates for election.
Wednesday saw our first twilight INSET session for staff, which was delivered by the Hertfordshire Integrated Services for Learning (ISL) SEND Specialist Team Advice and Support service. It will really help to increase our understanding of autism and how we can best support students with ASD within our school and in our lessons. Many thanks to Laura Wilson from ISL for delivering the training and Mrs Cole, Head of Learning Support and SENCo, for organising this.
Our Cambridge University trainee teachers started with us today and I would like to take this opportunity to welcome them for the term. I hope that they both enjoy and are able to learn a lot during their time with us. The contribution of our trainee teachers over the years has been significant and I am always pleased to be able to support them.
An additional service area is now open in the Dining Room at break time for Year 7. This will provide a much quicker service for everyone at break and cut down the queues considerably. As always at the start of the year, it takes a few days for break and lunch service to settle down. But please be assured that there is plenty of room for all our students to eat in the Dining Room, both those having a school meal and those with packed lunches. Students need to check the rota for their time slot.
Extra-curricular activities have also started this week, and we have seen huge numbers taking part (around 90 for some sports clubs!) and really embracing the return of these opportunities. It has been great to see - please continue encouraging your children to try out a club (or several) over the next few weeks.
Appointment times for our Open Events for secondary transfer went live this week, and we are already seeing parents booking for the four open mornings. I am really looking forward to meeting Year 6 parents and students there, having not been able to do this last year. We are also putting together our Open Event website now and are currently filming the videos for this.
And finally, a note about Chromebooks. We have been asking Year 7 how confident they felt about using Google Classroom and I thought that you'd like to see the results!
How lovely to see such a good level of confidence so early in their time with us.
All that is left for me to say now is that I hope you and your children have enjoyed the first part of the new school year as much as I have. Seeing a return to a more normal environment has been fantastic and there is a real buzz in the air this term, which was not always so noticeable last term. Maybe the (generally) good weather is helping and long may it last.
I hope that you are able to enjoy what looks to be a sunny weekend.

Mrs Frances Manning, Headteacher