Talk the Talk - communication skills workshop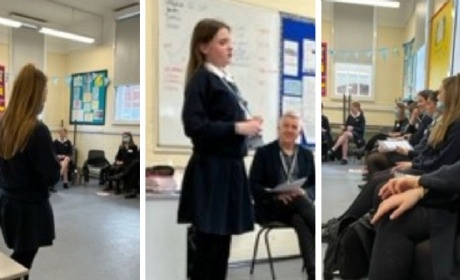 Talk the Talk came back to deliver another brilliant confident communication workshop this week, this time to our Year 9 students. Led by highly experienced trainers, Talk the Talk sessions teach students how to overcome nerves, speak with confidence and clarity, and engage their audience.
Our students took turns at public speaking as part of the session. We had some great topics, such as 'Is posting on Instagram and YouTube a real job?', 'Why I don't think that Covid isolation rules should be relaxed', 'Overcoming fears' and 'Why you should get a pet raccoon'! Very well done to them for having a go - we hope the workshop provided them with some skills they can build on for life.