World Class Schools project, March 2022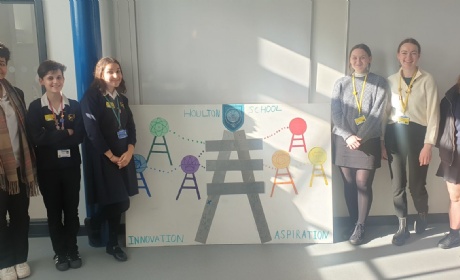 World Class Schools Assessment Centre Project: this was one of the highlights of the World Class Schools calendar, with schools from all over the country working together on a variety of projects.
Our six students took part in designing a mural for Houlton School, a brand new school in Rugby, based on the themes of their ethos. They worked very collaboratively with partners from other schools through the design and production phases.
The result was this wonderful mural that will 'evolve with time'. Each spot you see is a fingerprint of a Year 7 student, and each new cohort arriving at the school will add theirs to this lovely design. It celebrates the fact that Houlton School is built on the site of a historic radio station.
Amelie Woolass and Bibi Winter were there in their capacity as 'qualified assessors' tasked with inspecting the quality of other schools' projects.
Great job to you all, we're very proud of you!