New Headteacher appointed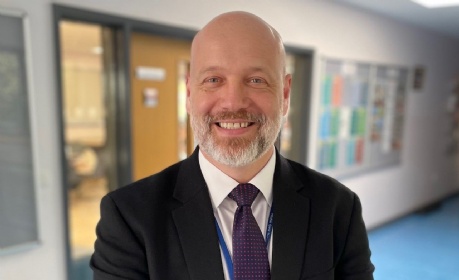 We are delighted to announce that Mr James Crowther, our current Deputy Head, has been appointed as the next Headteacher of Hitchin Girls' School.
We publicly advertised the role of Headteacher back in February. A shortlist of three individuals was taken forward to final interview. We then ran a two-day assessment process, during which the candidates met with groups of students, staff, and trustees.
Mr Crowther decisively emerged as the preferred candidate through this process. He impressed us all with his experience, vision and ambition for the school. We are fully confident in his ability to lead Hitchin Girls' School through the next stage of its journey in a way that upholds the school's family-orientated ethos. Mr Crowther's appointment was ratified by the Trust Board last Friday evening. He asked me to share the following with you all:
"I am delighted and proud to have been appointed as the Headteacher for Hitchin Girls' School. After ten years of being the Deputy Head, I fully appreciate what a special place the school is, and I am excited to lead the school into the next stage of its development. I look forward to working with staff, students, parents, trustees and the wider community on the journey ahead."
Mrs Manning will continue to lead the school throughout the Summer Term. Her last day will be on 31 August. Mr Crowther will then assume the role of Headteacher from 1 September.
I will obviously have more to say about Mrs Manning's exceptional stewardship of the school in a few months' time, but for now I would simply like to thank everyone who has participated in the appointment process, and I am sure that you will join me in congratulating Mr Crowther and welcoming him to his new role in due course.
Chris Hall, Chair of the Trustees