Introducing our Senior Prefect Team for 2022-23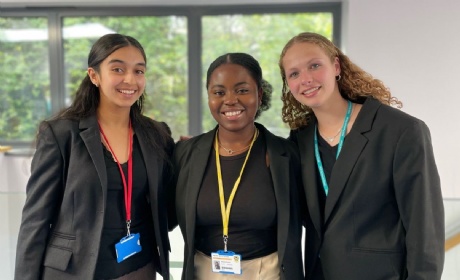 Meet Khaela, Paige and Rhea, who have just been elected Head Girl and Deputy Head Girls for 2022-23 in a ballot of all Sixth Formers and staff. Congratulations to you all!
Khaela Kwaku, Head Girl

"My role as a young carer to my younger sisters with autism has taught me resilience and enabled me to draw on my own strengths to manage difficult and challenging situations, as well as the importance of being there to support others.
Being in several roles, such as school council and house prefect of Austen, has made me more confident, hardworking and determined, and has taught me to be self-motivated, to never give up, to be responsible, to be courteous, to be a good listener, and to acknowledge everyone's opinions and concerns.
I have been immensely supported, motivated and pushed to my utmost potential by staff, since my very first day in Year 7 all the way to Sixth Form, and know that our school ethos has helped shape the person I am today and what I stand for. It would be an honour for me to fulfil the role of Head Girl, to represent and speak in a unified voice for all students of Hitchin Girls'."
Rhea Basra, Deputy Head Girl
"Hi everyone! My name is Rhea and I am super excited to be your Deputy Head Girl for the next academic year. As a member of the Senior Prefect Team, I would make it a priority to ensure that education at this school goes so much further than just the curriculum we're supposed to be taught. I really look forward to interacting with everyone around the school and taking an active role in our community here at Hitchin Girls' School."
Paige Vorster, Deputy Head Girl
"I arrived at Hitchin Girls' as a disoriented, despondent and displaced immigrant in the midst of a global pandemic. I had to complete my GCSEs in just five months, and because of the various levels of lockdown I found it difficult to integrate myself into the school I was attending. I felt completely lost and alone, and this was definitely one of the most difficult periods of my life. Despite this, I managed to excel in my GCSEs and was accepted at Hitchin Girls' for Sixth Form.
Upon arriving at Hitchin Girls', I felt an immediate sense of acceptance and belonging. I was made to feel welcome by all of you, as you lived up to the school's ethos of being a 'fully inclusive school'. This reminded me how important it is to be accepting and accommodating of others, and to always treat people with dignity and respect.
It would be an absolute honour and privilege to give back to those who welcomed and embraced me at such a crucial stage of my life."