Maths Enrichment Day at Hertfordshire University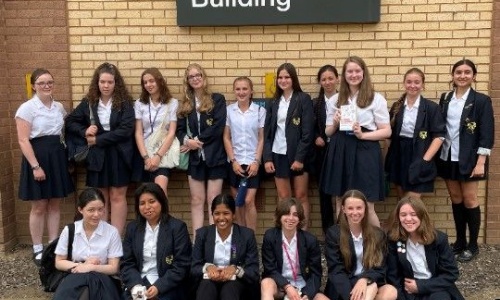 Sixteen students from Mrs Kirtland's and Mrs Le Page's Year 10 classes attended the Maths Enrichment Day at Hertfordshire University this month, led by Val Pritchard of the Advanced Mathematics Support Programme.
Val Prichard sent the following comments about the day:
"Students from each of the nine schools attending the Enrichment Day showed outstanding engagement with the presentations. They coped patiently with hot conditions and rather cramped spaces. I was particularly impressed by the consideration they showed to each other and to presenters. The students did each of their schools great credit. Thank you to all of the teachers and students who took the time to come along."
Our Students were very excited about the day and talked about what they learnt for the rest of the week! Highlights included two of our four teams coming joint 1st and joint 2nd place in the highly competitive 'dragon race'.
We also enjoyed a very engaging session about the golden ratio and why phi is the most irrational number of them all, and a thought-provoking and creative session on three-dimensional models of the fourth dimension.
Students also had fun trying out the functions on A Level calculators, using practical equipment, eating up any 'over-catering' from the lunch provided for teachers, and winning sweets as prizes. Two of them won books in the prize draw too!
Mrs Le Page thanks all the students who took part for their enthusiasm throughout the day. A special thanks also to the site team for getting us there in the minibus.