Trampolining triumphs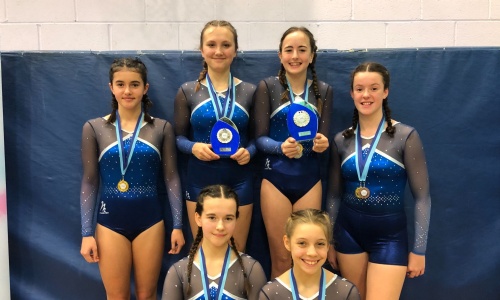 We saw brilliant performances and great successes at the recent East Region trampolining competition!
Both Inter teams won their respective team competitions. Individually Eve was 1st and Chloe 3rd in the Years 10-14 level, while Freya was 2nd and Izzy 4th in the Years 7-9 level. Lily and Mirelle were both 6th in their respective age groups.
Eve, Chloe, Freya and Izzy have all now qualified individually for the Zonal round in January, as have both of the teams.
Our Novice gymnasts, who have had much less experience, also performed exceptionally well!
Rowan, Isobel, Megan and Lyla finished 2nd in the Years 7-8 team event. Rowan was 3rd individually and Isobel 4th. All have qualified for the Zonal round.
Our Year 7 and Year 10 Novice teams both finished a very creditable 5th in their respective competitions.
Well done everyone, and our thanks go to HBS Revolutions for their continued coaching and support.