Head Girl & Deputies 2023-24 announced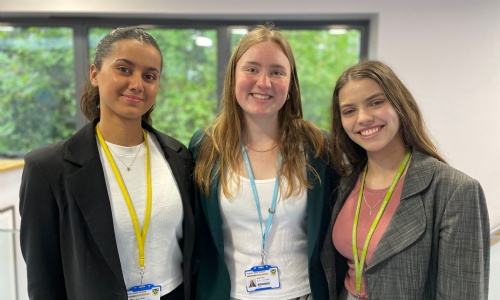 We are delighted to introduce Amy, Avani and Caitlin, newly elected Head Girl and Deputies for next school year.
Amy Pryle, Head Girl
"I am hugely excited and honoured to have been awarded the role of Head Girl for next year. I'd like to introduce myself and express why I was so passionate to take on this role. I've been at the Girls' School since Year 7, and I feel immensely grateful to be a part of such a friendly, enriching and aspirational community. I look forward to playing a more active role in our school and giving back to our community, working with two wonderful deputies, Avani Raju and Caitlin Coles. It will be a pleasure to be able to represent HGS, each and every student, and all of our integral values in the role of Head Girl."
Caitlin Coles, Deputy Head Girl
"I'm taking A Level Latin, Psychology, and Philosophy and Ethics. I'm a keen pianist and so work as a music tutor outside of school. Within school I'm a Maths Learning Ambassador, Pastoral Peer Mentor and Bronte Year 12 House Prefect. This enables me to engage with students across all years and many of the staff here. I've loved putting together and presenting events with my fellow prefects this year, like Bronte's Masked Talent charity show and House assemblies, and so can't wait to do this with Amy and Avani on a whole-school scale. I'm passionate about social justice and climate change, and intend to amplify other students' causes as Deputy Head Girl. I'm confident that, as a Head Girl team, we will continue to strengthen the HGS community, using the new values established by the school, to ensure that all students here can achieve their full potential."
Avani Raju, Deputy Head Girl
"Just over a year ago I encountered my biggest challenge yet: undergoing a major operation on my spine. It wasn't just my physical health that suffered but my mental health was pushed to its limits too. I overcame these challenges because of Hitchin Girls' School, where everyone around me made something that seemed impossible possible again - turning a year with so many negatives into one with so many positives. This helped me to learn not to doubt myself, and treat myself with more kindness and respect, something we all forget to do. Since then I have been inspired to do the same for others. Therefore, I'd like to be an example of how challenges are not the be all and end all, and how they come and go but the qualities you develop from them will stay with you forever. My main aim as Deputy Head Girl is to ensure that we all treat ourselves with the kindness and respect we deserve."