Last Week of Lessons for Years 11 & 13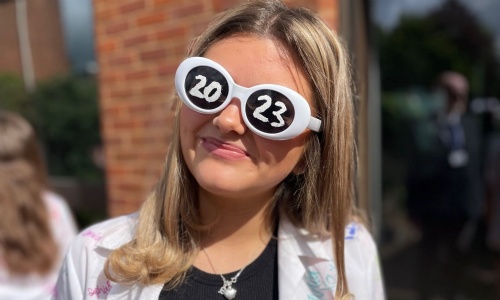 We said goodbye to this year's GCSE and A Level students as they are now off on study leave.
It was the last day of formal lessons for our Year 11s on 10 May. After breakfast butties and a final assembly with Mr Crowther and all the Year 11 teachers, there was time for signing shirts and photos outside before heading off on study leave. Wishing them all every success in their exams. We look forward to seeing many of them in Sixth Form next year, and to those who are moving on to pastures new - good luck in the next step of your journey, and stay in touch!
And on 12 May we said goodbye to all of our Year 13s as they now enter their A Level exam period. As is tradition, they arrived for their last day in themed dress - 'When you were young, what did you want to be when you grew up?'. So, we had pirates, chefs, astronauts, explorers, dentists, swimmers, builders, doctors and fighter pilots (and some of those were the tutors), to name but a few.
It was great to hear the speeches from the students and staff - they shared fond memories and a real sense of family and community. We wish them the very best with the exams that lie ahead. Beyond exams an exciting future awaits them; we're incredibly proud of them all.