Herts County Athletics Championships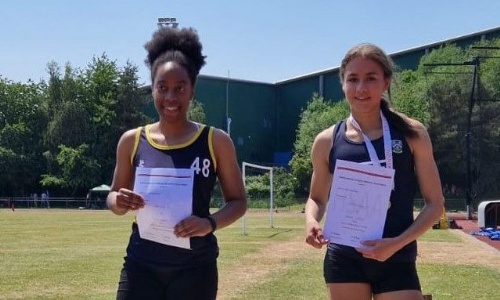 A number of our students attended this competition on 10 June - not only was it a great achievement to be selected to compete at this event, but students also performed incredibly well given the temperature on the day.
Well done to Agnes and Jess (Year 7) who, in their first year competing at this level, finished 6th and 7th in their U13 Girls 200m heat.
Edythe (Year 8) finished 4th in her U15 Girls Hurdles heat with a Personal Best time of 12.6s, and followed this up with 12.72s in the final to finish 4th overall. She then jumped a Personal Best of 4.25m in the U15 Girls Long Jump to complete a busy day.
Her teammate Emily (Year 9) finished 4th in the same competition, narrowly missing out on a medal with a jump of 4.57m. Emily also had a packed day, as she stormed to victory in her 100m heat before running 12.9s in the U15 Girls 100m Final to secure 5th place.
Sarena (Year 8) had a tough gig competing in the 1500m but ran a superb Personal Best by 4 seconds to finish in 6th place.
Florence (Year 8) produced an outstanding performance in the Triple Jump, jumping 9.75m, which was a Personal Best and earnt her a 2nd place finish.
Fran (Year 10) ran incredibly in the 300m Hurdles, a Personal Best that brought home the first Gold medal of the day. She followed this up with a jump of 9.27m in the Triple Jump with teammate Jess (Year 10) jumping 8.21m.
Abby (Year 11) also had a tough race running the 1500m, but finished with a time of 5:06 to put her in a fantastic 2nd place. Poppy (Year 11), who is recovering from injury, finished 2nd in the U17 Women's Javelin and has been selected to represent Hertfordshire in the English schools national event in July. Amelia (Year 12) ran an impressive 12.03s Personal Best to take the second victory of the day in the U19 Women's 100m, and has also earned her place in the English schools team.
Well done to all!