Berlin trip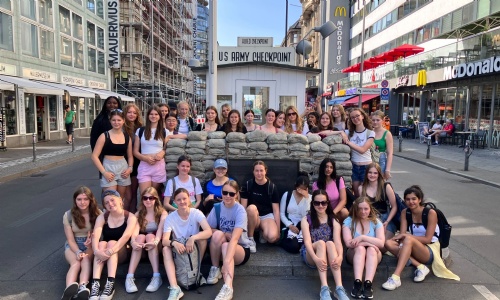 Year 10 historians rounded off the school year with four days in Berlin in July.
The trip started early with us leaving school at 3am! But this had the advantage of giving us a full first day in Berlin, which started with a walking tour of some of the most iconic landmarks, including the Reichstag building and Brandenburg Gate. There was also the opportunity to reflect on the stories of individuals at the Roma and Sinti memorial, as well as the Holocaust as a whole, at the powerful Memorial to the Murdered Jews of Europe.
Our second day was a hot one, with temperatures peaking at 35 degrees. We started at Sachsenhausen Memorial Site, a concentration camp used by the Nazis and then the Soviets during the Cold War. Students responded with maturity and asked lots of insightful questions throughout the visit. Both our guides commented on how impressed they were with the students in such an emotionally challenging place. During the afternoon we were fortunate enough to have an air-conditioned coach taking us to the German-Russian Museum and Treptow Park Soviet Memorial.
On Day 3 our focus was on the Cold War period. We went to Bernauer Strasse to look at the reasons why the Berlin Wall was built, and the human impact it had on so many individuals. We continued with the focus on East Germany, looking at the role of the Stasi at Hohenschoenhausen, where learnt about their methods of intimidation and control as well as the conditions in the prison. The afternoon was a little more light-hearted with a visit to the interactive DDR Museum, where students enjoyed a faulty East German lift, sat in a Trabant and tried on some East German clothes! We finished the day by looking out over Berlin from the top of the Reichstag building.
Our final day started with looking at Checkpoint Charlie and its significance during the Cold War. This was followed by some retail therapy at the chocolate shop and Mall of Berlin!
77,542 steps and 31.42 miles later, we made it back to HGS. Both the staff and our guides were really impressed with Year 10 - we hope they enjoyed the trip as much as we did.

Mrs Lowe