Gold in cross country - in all age groups!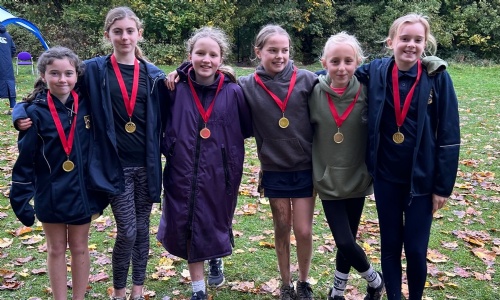 Outstanding achievements at the District Cross Country Championships last week despite the cold and rain!
All five of our age groups (Y7 to Senior) won team Gold medals, which has never been done before. Congratulations to:
Year 7: Lauren, Millie, Hannah, Jess, Isabella, Poppy
Year 8: Neve, Jess, Anna, Molly, Ilona
Year 9: Indiya, Sarena, Edythe, Rowan, Emily, Hannah
Year 10: Bethany, Juliet, Anouska, Chloe, Lucy, Nina
Senior: Abi, Fran, Holly, Molly, Charlotte, Rose
We also have an amazing list of individual medallists: Jess (Gold - Y8), Neve (Bronze - Y8), Sarena (Silver - Y9), Edythe (Bronze - Y9), Juliet (Silver - Y10), Abi (Gold - Senior), Fran (Silver - Senior), Rose (Bronze - Senior).
A fantastic effort all round – well done to all 35 students who took part for their determination and camaraderie throughout the competition!