Welcome to our department!
"If you can imagine a computer doing something, you can program a computer to do that!"
Tim Berners Lee
(Inventor of the WWW)

Teaching Styles
All courses use a range of teaching styles, giving pupils opportunities to access learning using a range of different approaches. In Computing lessons, students are actively encouraged to develop their 'Computational thinking', a skillset intended to help them problem solve, breaking issues down into small, manageable pieces. We deem this an essential skill as the students prepare for life outside of education and the necessity to be able to participate effectively in the digital world. Whole class discussions, group work and regularly peer and tutor assessment ensure an engaged, enjoyable and calm working environment.
Homework
Set weekly, the students are expected to undertake:
Key Stage 3 – half an hour per week
Key Stage 4 – an important of courses at this level is to engage in independent study. Personal organisation and time management ensure students work to deadlines. Students must be prepared to undertake additional work in school and at home.
Extra Curricular
Tuesday 12:45-13:30 – M8 – Coding Club – a club for all ages to enjoy fun, engaging programming challenges in order to further their understanding of the subject.

Tuesday 15:30-16:30 – M7 – Extra curricular assistance for all ages for Computing or Business Studies.

Thursday 12:45 – 13:30 – M8 – Business Tycoon – an extremely popular Business Enterprise national competition open for KS4 and 5, represent your school, win prizes and learn about running your own business.
In addition to the above clubs, the department runs several trips throughout the year including visits to the National Museum of Computing, Cadbury World, MINI manufacturing plant, Coca-Cola and in February 2015, a sixth form Business trip to New York.
Grouping
All courses are taught to mixed ability groups.
Revision
Please visit the Computing or Business pages on Moodle to access all revision materials.
Business - https://vle.hgs.herts.sch.uk/course/index.php?categoryid=10
Computing - https://vle.hgs.herts.sch.uk/course/index.php?categoryid=329
Key Stage 3
From September 2014, ICT was replaced within the national curriculum by a new subject, Computing. While similar in name, the vast majority of the old curriculum was replaced. The new national curriculum for Computing has been developed to equip young people in England with the foundational skills, knowledge and understanding of computing they will need for the rest of their lives. Through the new programme of study for Computing, they will learn how computers and computer systems work, they will design and build programs, they will develop their ideas using technology, and create a range of digital content.
Below is a graphic that underlines what you will study during KS3 Computing.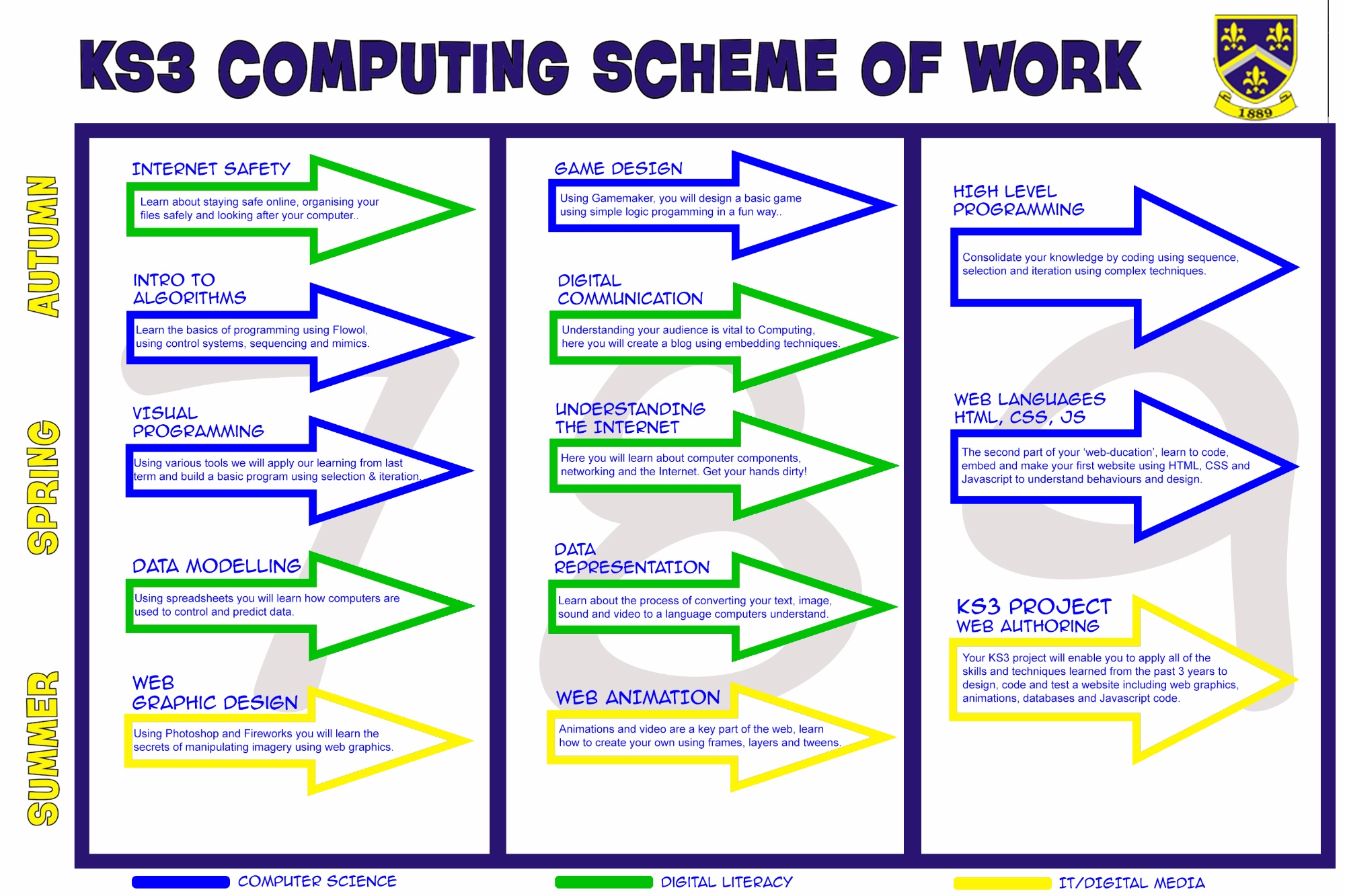 Key Stage 4
We offer two options within the department at Key Stage 4, at present these as follow:
OCR GCSE Computer Science
EdExcel GCSE Business
For further details of the course content, method of study and assessment structure, please refer to the Key Stage 4 Options Booklet.
Key Stage 5
As a consortium of schools we offer a wide and diverse range of KS5 qualifications within the department including, Computer Science, ICT, Business, Economics, among many others.
Full details of the courses offered by the Hitchin Schools Sixth Form Consortium are shown in the Consortium Prospectus.