Welcome to our department!
"If you can imagine a computer doing something, you can program a computer to do that!"
Tim Berners Lee
(Inventor of the WWW)
Teaching Styles
All courses use a range of teaching styles, giving pupils opportunities to access learning using a range of different approaches. In Computing lessons, students are actively encouraged to develop their 'computational thinking', a skillset intended to help them problem solve and break issues down into small, manageable pieces. We deem this an essential skill as the students prepare for life outside of education and the necessity to be able to participate effectively in the digital world. Whole class discussions, group work and peer assessment ensure an engaged, enjoyable and calm working environment.
Extra Curricular
A number of extra-curricular activities are run throughout the year, with students participating in Code Club, the Bebras competition, CyberFirst (Year 8 only), CyberDiscovery, the Perse Coding competition, Matrix Challenge and Amazon GetIT.
In addition to the above activities, the department runs trips including visits to the National Museum of Computing and New York (every other year).
Homework
Homework is set on a regular basis in line with the school Homework Policy.
Grouping
All courses are taught to mixed ability groups.
Revision
All lesson materials are shared with students on Google Classroom.
KS4 and KS5 students all have accounts on https://www.testandtrack.io/
Other revision resources can be found on BBC Bitesize and https://www.senecalearning.com/
Key Stage 3
KS3 Computing covers three different but complementary areas: digital literacy, computer science and information technology. We aim to equip students to be able to use computational thinking and creativity to understand the world around them. Computing has clear links to many other subjects. Our curriculum aims to teach students the principles of information and computation, how computer systems work and how to put this knowledge to use through programming. The curriculum allows students to question, explore, apply and gain knowledge of the fundamental principles of computer science including abstraction, logic, algorithms and data representation.
We aim to ensure that pupils are digitally literate – able to use and express their ideas using a variety of IT tools – and that they will become responsible, confident and creative users of any type of IT technology.
Below is a graphic that outlines the KS3 Computing Curriculum map: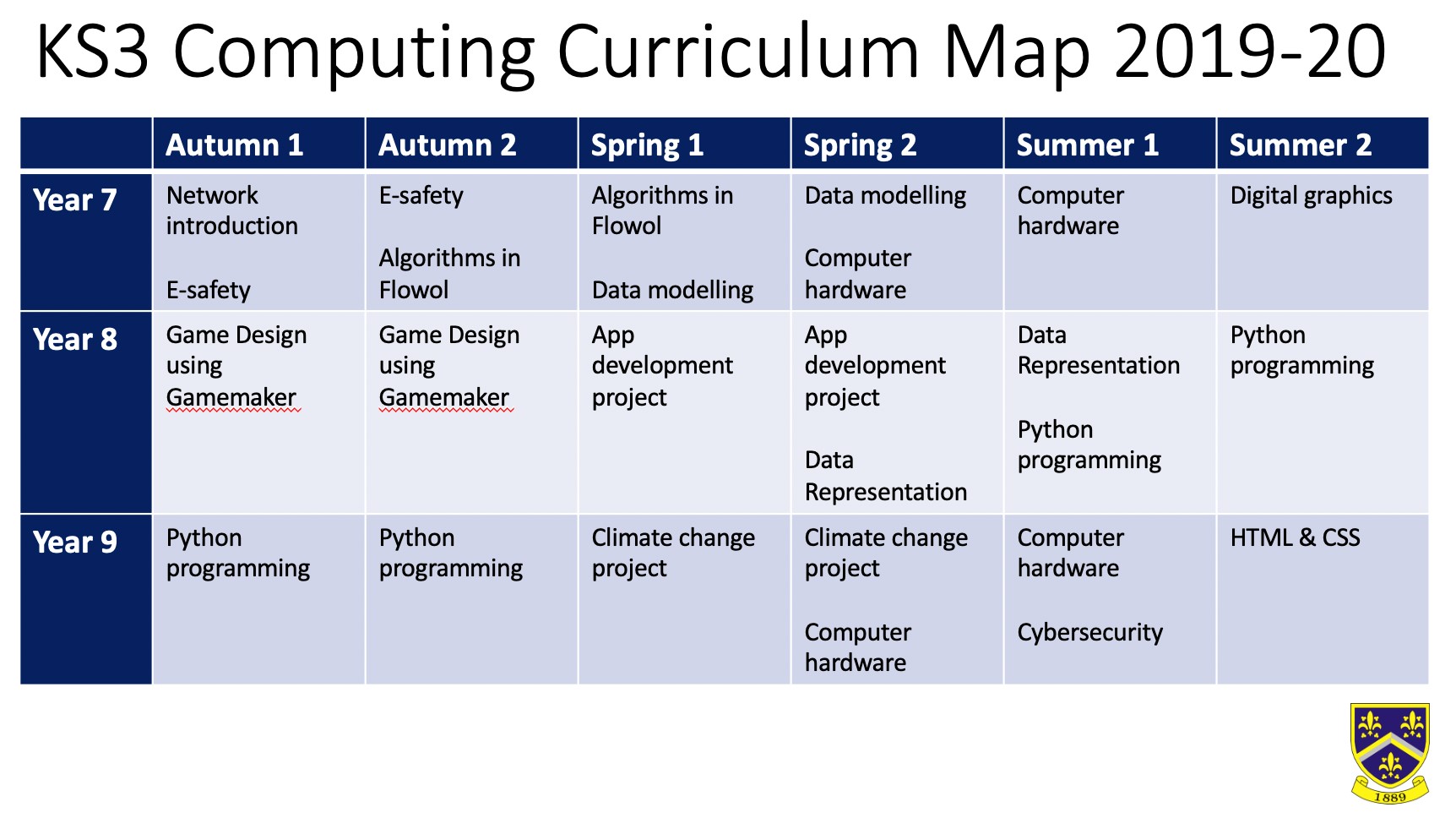 Key Stage 4
We offer two options within the department at Key Stage 4:
GCSE Computer Science
GCSE Business
Key Stage 5
AQA A level Computer Science is taught in conjunction with HBS.
Eduqas A level Business is taught at HGS.
Full details of the courses offered by the Hitchin Schools Sixth Form Consortium are shown in the Consortium Prospectus.