HGS Weekly Newsletter - Summer Term, Week 5
HGS Weekly newsletter: summer term, week 5 (20 may 2022)
---
stay hydrated and enjoy the weather
Now that warmer weather is here we have had many students asking for cups of water. Remember to bring a water bottle every day, which can be refilled at the tap on the outside of the main school building.
---
free school mealS - HOLIDAY vouchers
Hertfordshire County Council will be providing supermarket vouchers for every child entitled to Free School Meals for the May 2022 half-term holiday period. Each entitled child will receive a digital supermarket voucher to the value of £15 via Edenred.
These will be emailed directly to parents, unless other arrangements have previously been agreed with the school.
---
MANAGING EXAM STRESS
If you have GCSEs or A Levels coming up this term, take a look at this video made by Phase Hitchin, a young people's well-being charity we work with, for some great tips for managing exam stress: https://youtu.be/Sa41YQkZZaI
There is also a website with a wide range of resources for students and parents published by Hertfordshire Just Talk. Visit the site
Also check out the Department for Education's site for exam preparation top tips.
---
hgs uniform nearly new sale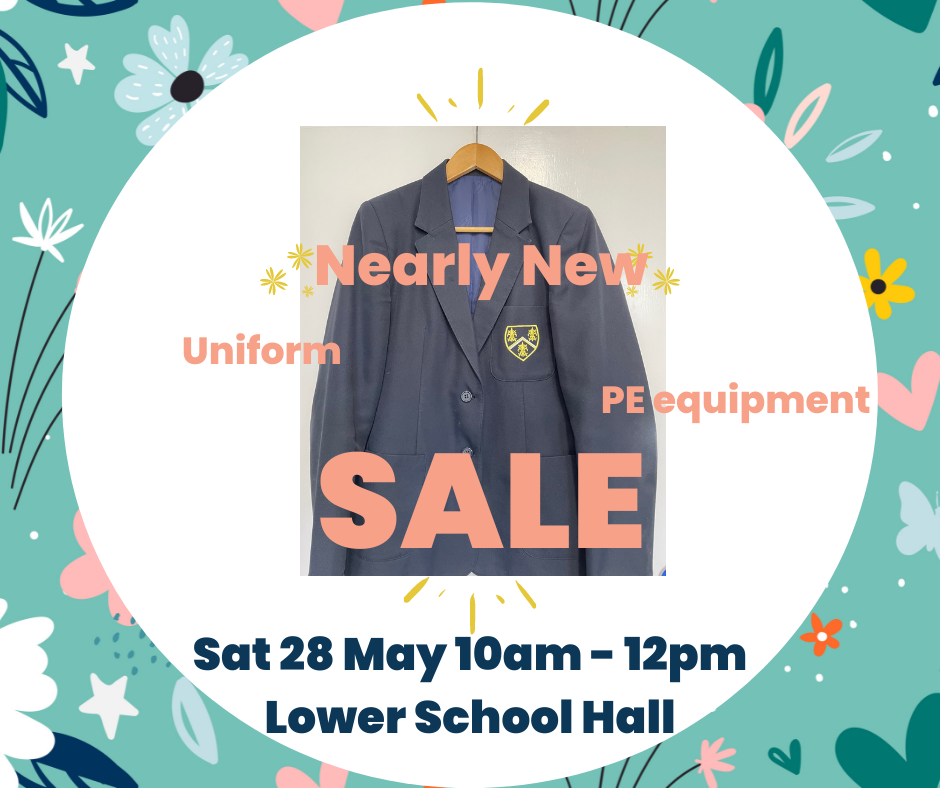 ---
Year 7 Music
Here are some of our 7C students rehearsing and performing their 'Matilda' improvisations out in the sunshine recently. We saw impressive work from the whole form - what talent!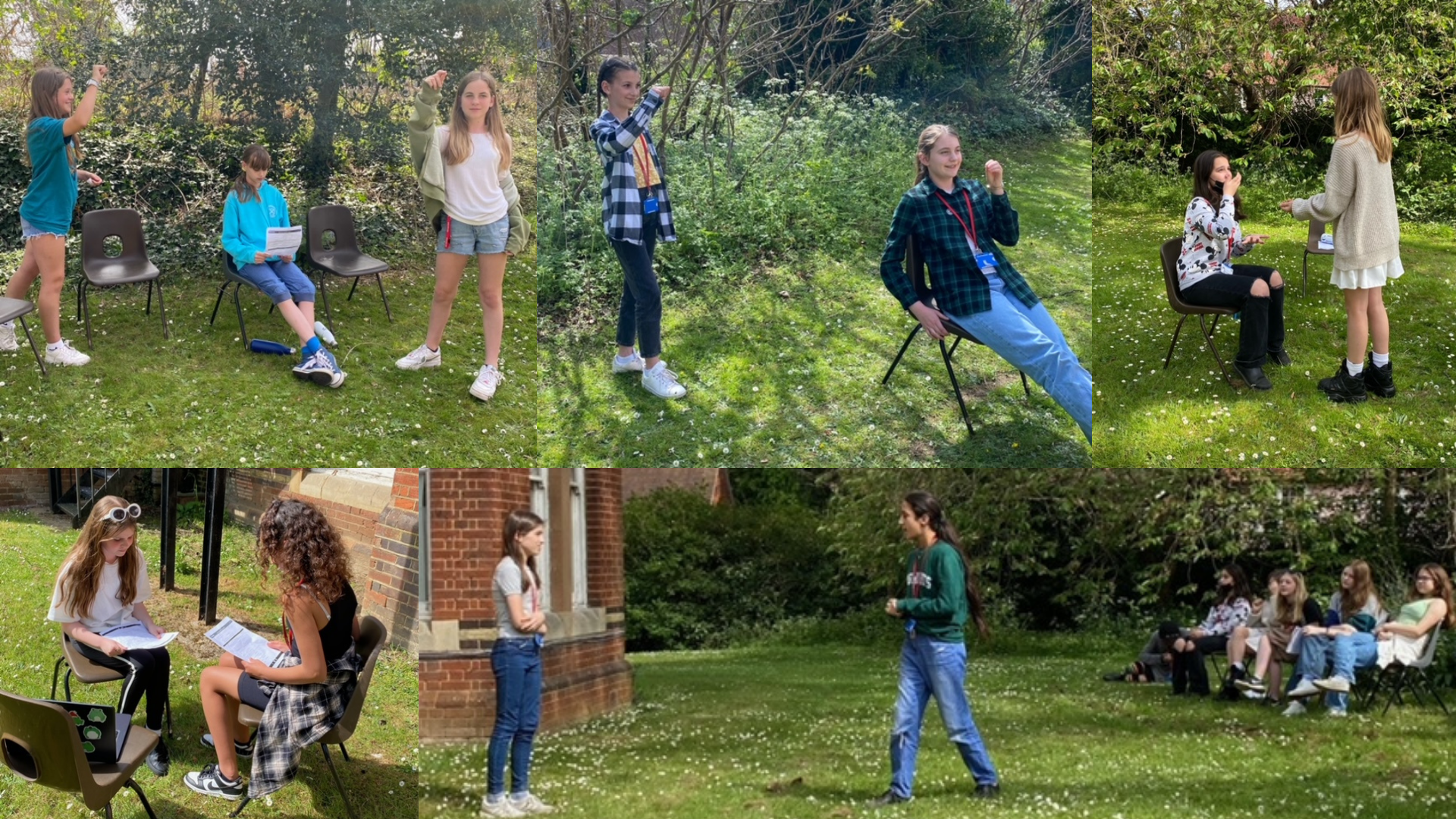 ---
7P RAFFLE FOR UKRAINE
Matilda and Lauren in 7P organised a form raffle and raised almost £300 for the British Red Cross Ukraine Appeal, with lots of fun drawing numbers and giving out the prizes. Well done!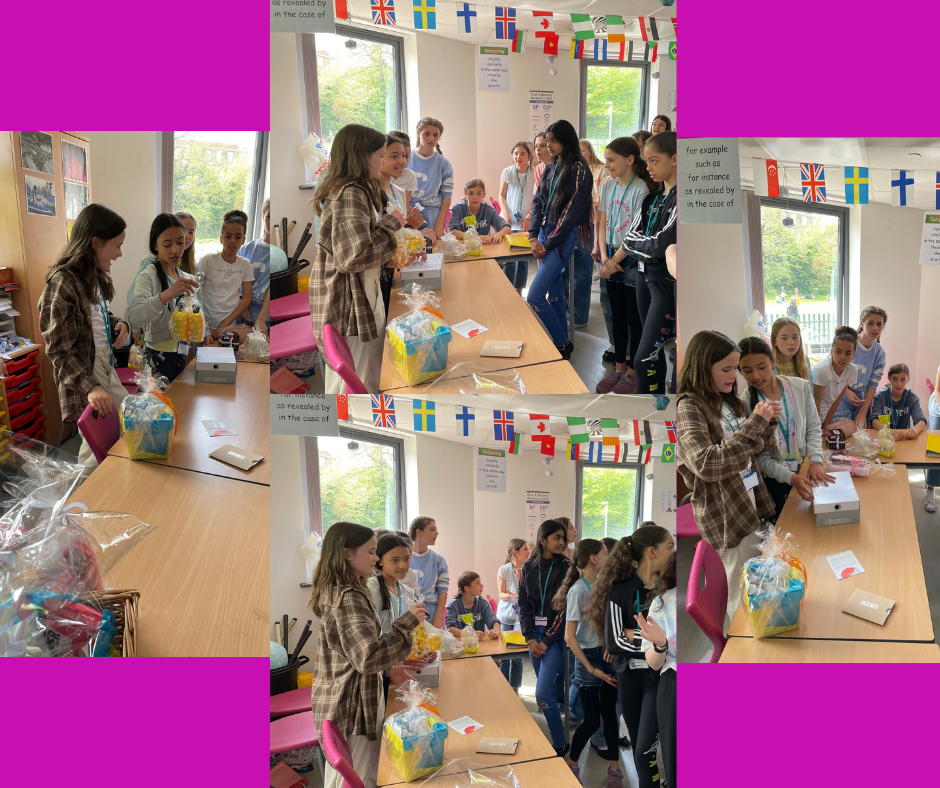 ---
year 8 maths challenge
Daisy, Hattie, Niamh and Roshni took part in the Herts Year 8 Team Maths Challenge at Marriotts School in Stevenage this week. Having made it to the final out of 76 teams, they finished in the top 18 in a great team effort.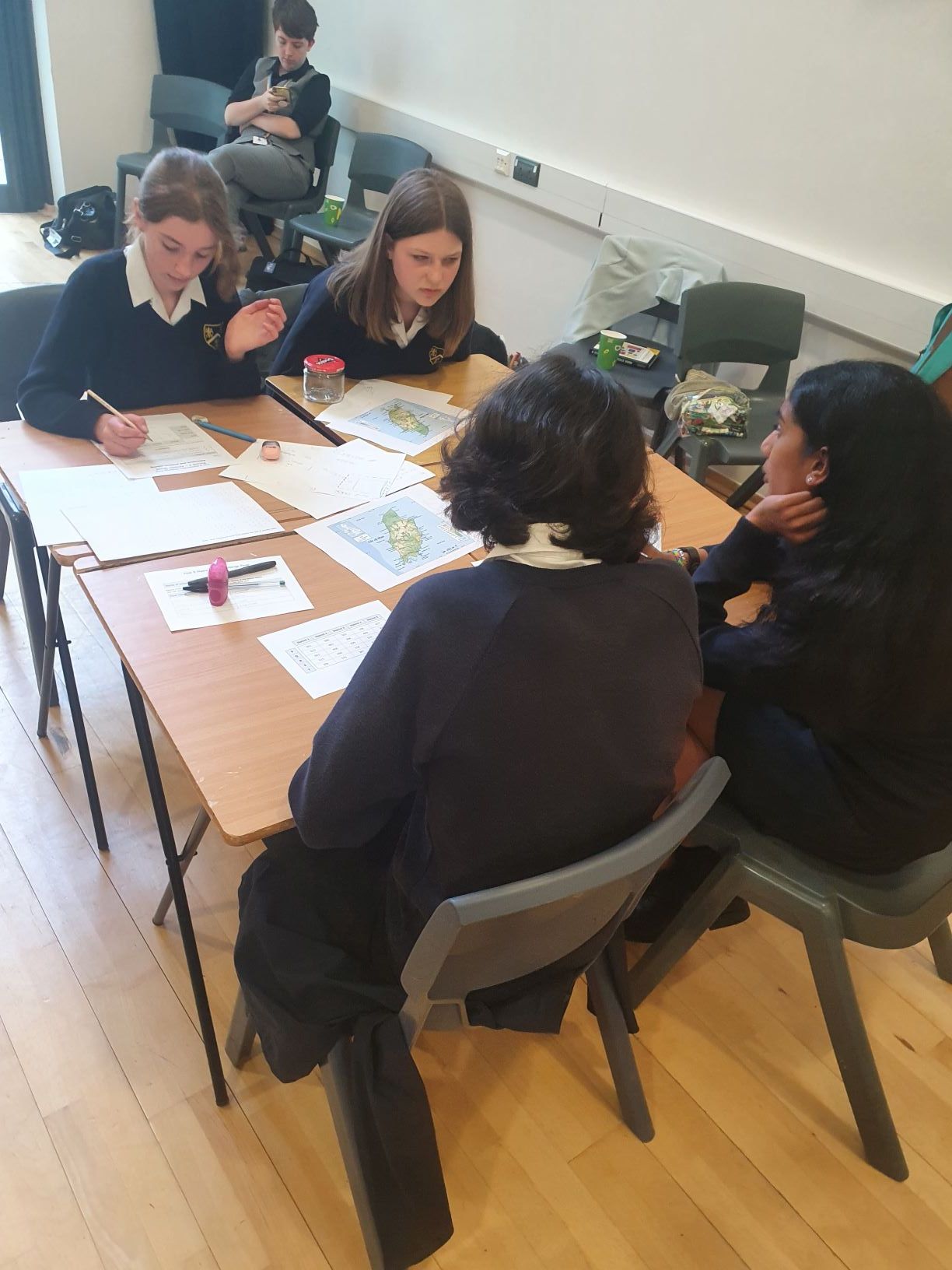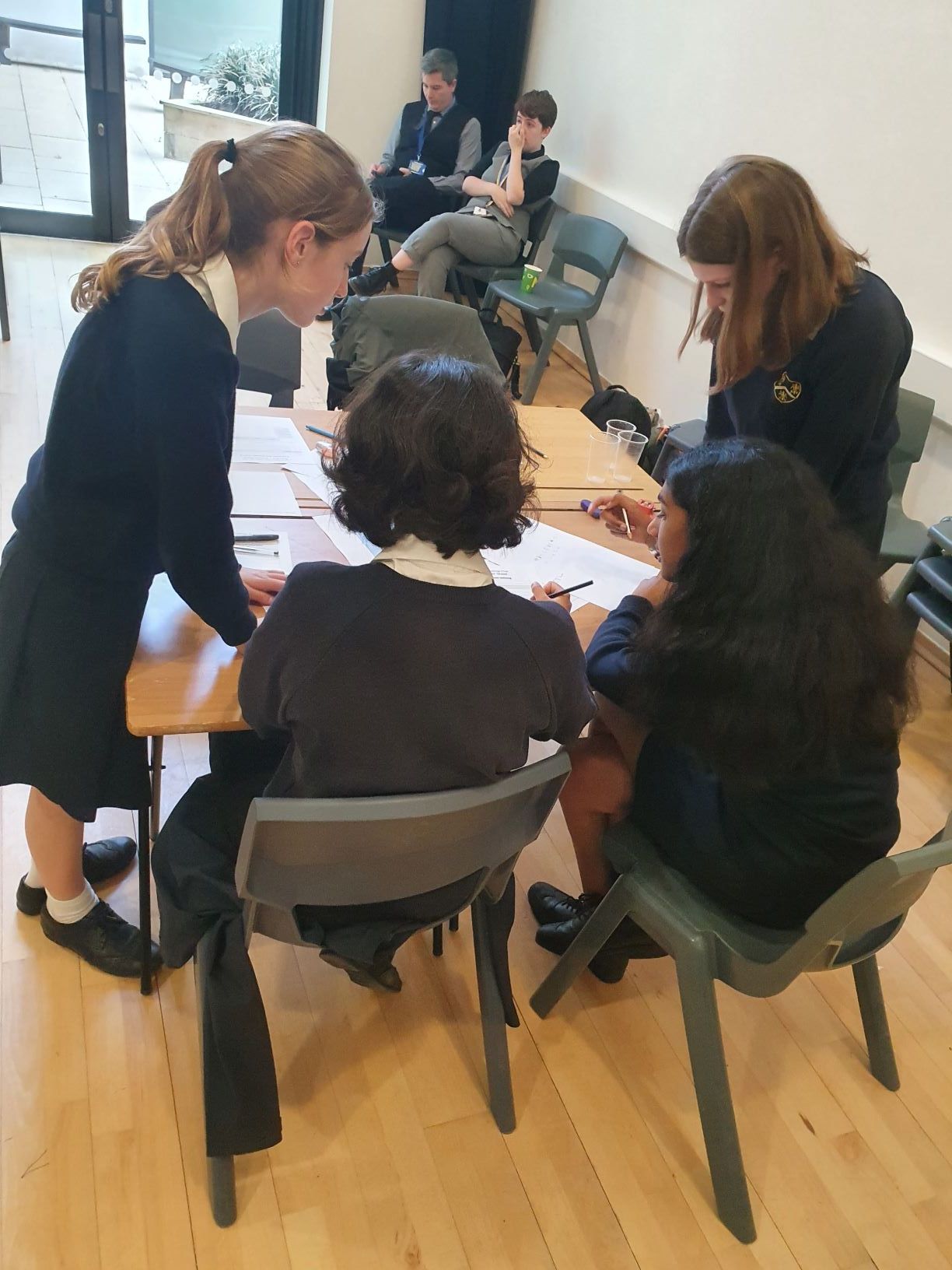 ---
Sports Leadership Festival
We had perfect weather and a real sports-day atmosphere this week, as our Year 10 Sports Leadership students hosted Whitehill Junior School pupils for different sports activities they had designed. With lots of inventive games and races, the event was a big success.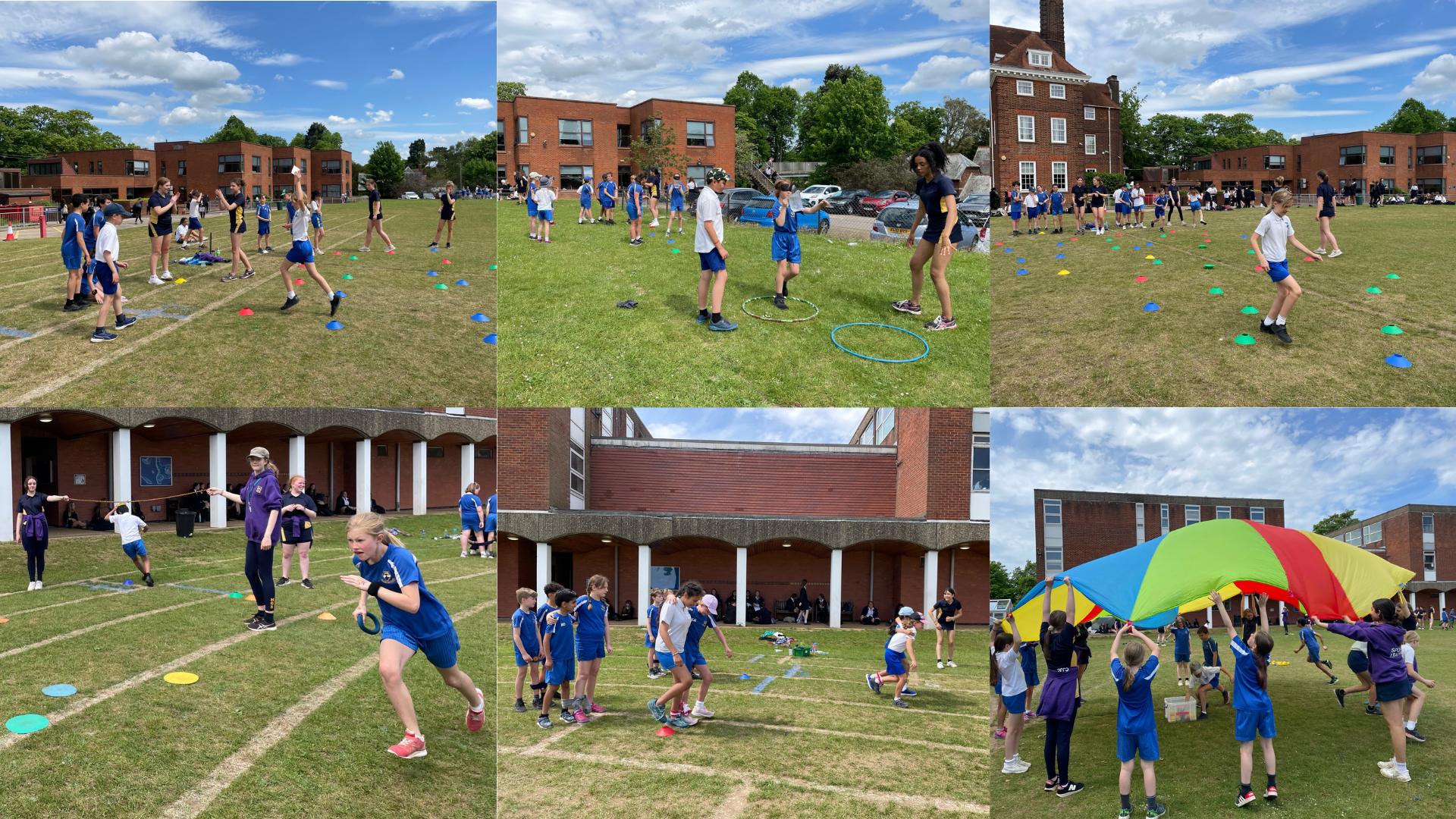 ---
belles on the ball
We are so proud of our Year 8 students Bethany, Summer, Lily, Maia, Maisie, Lydia and Olivia who play football for Hitchin Belles U14 Sapphires. They managed the double recently, winning both their division and the Shield competition - despite playing against Year 9 teams!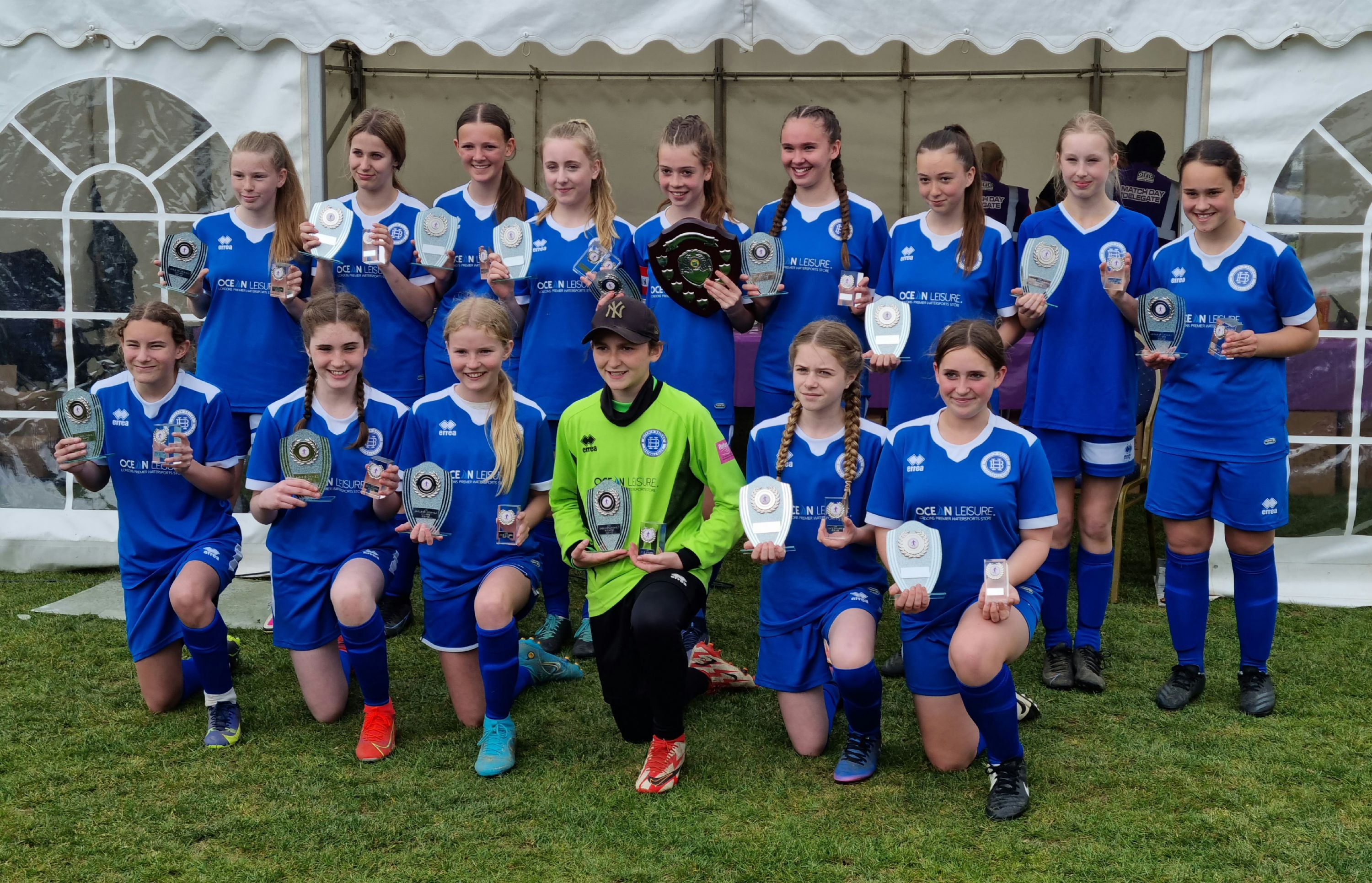 Meanwhile the Hitchin Belles futsal team won the County title before Christmas, and this week they travelled up to Norwich for the regional tournament, where they finished runners up. Lily-Rose, Ella, Chloe and Isobel were among the lineup. A brilliant result for our HGS players and the whole team!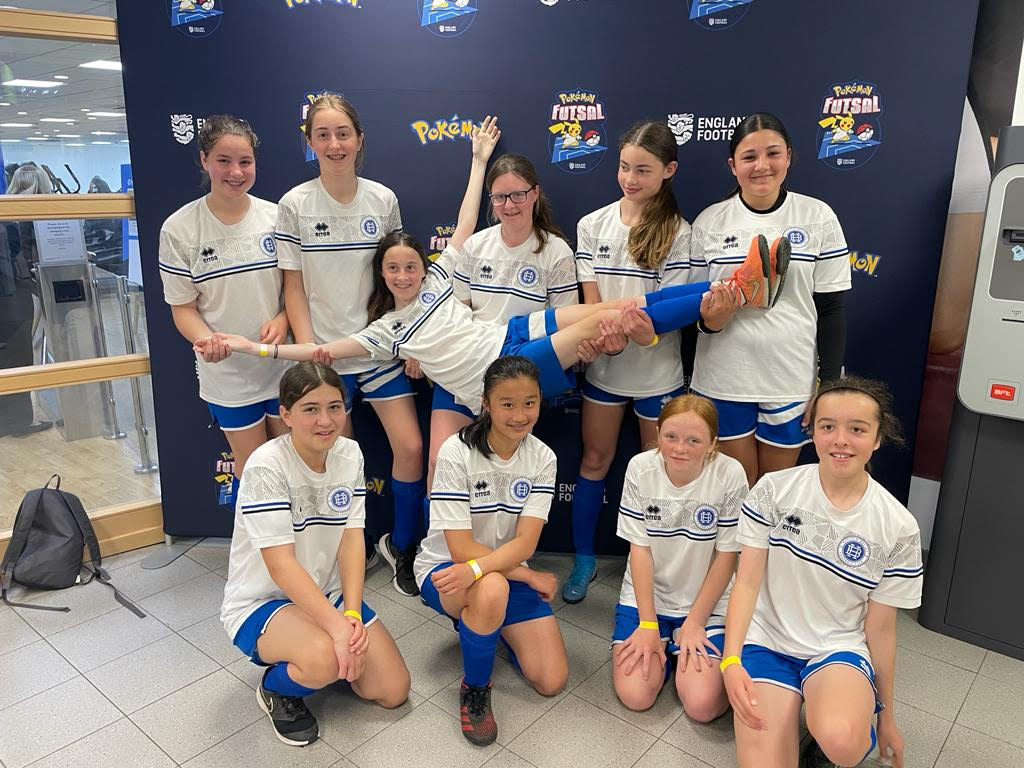 ---
food club
Food Club enjoyed making rock buns - we had some fab ingredient choices to personalise the basic mixture, including cherries, smarties, choc chips and raisins. On the savoury front, Lucy (Y7) and Sophie (Y8) both won Star Baker wooden spoons for their excellent tomato and mozzarella tarts!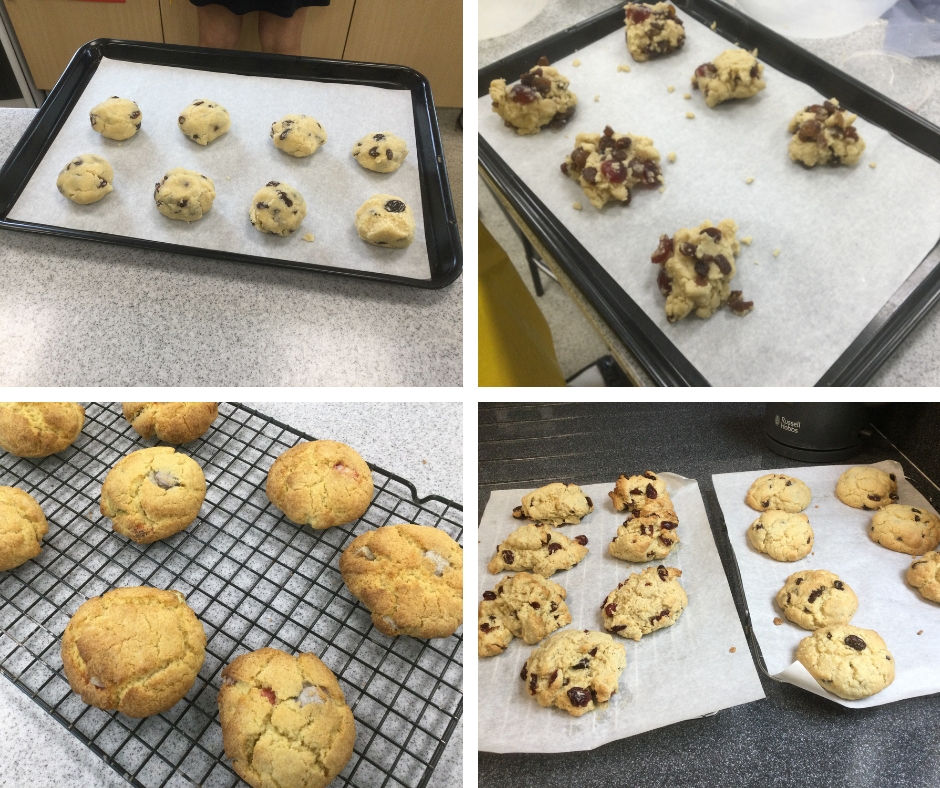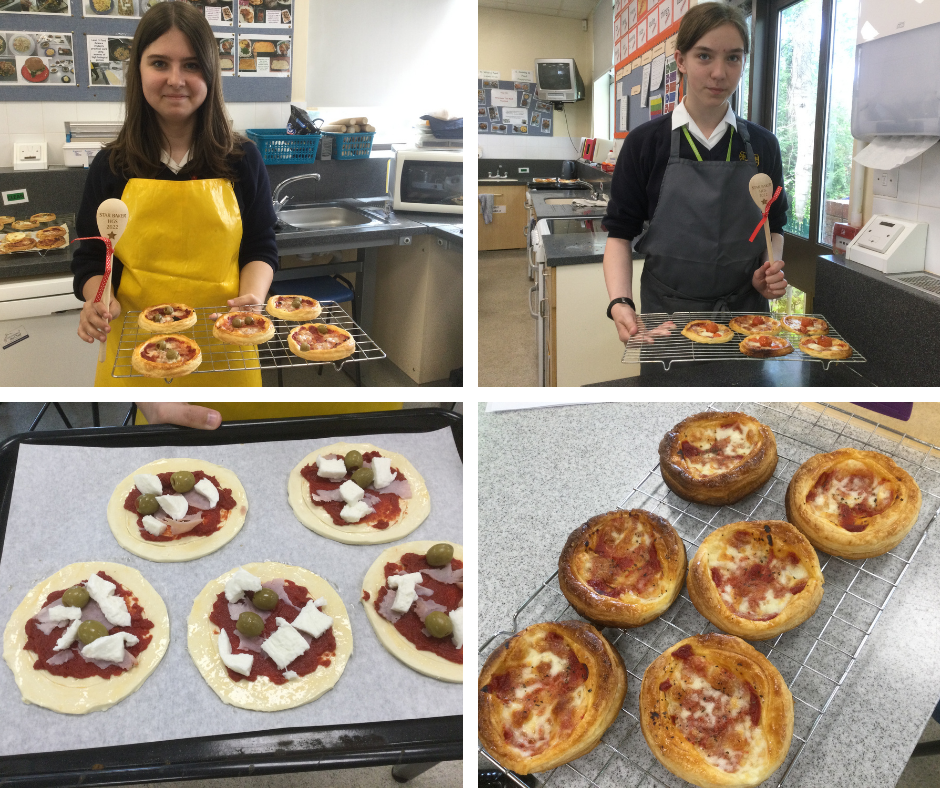 ---
Supporting Sixth Formers
We were very pleased to welcome a representative from the University of Sheffield to talk to our Year 12 students about the UCAS process, before we ran our own workshop to help them with their Personal Statements.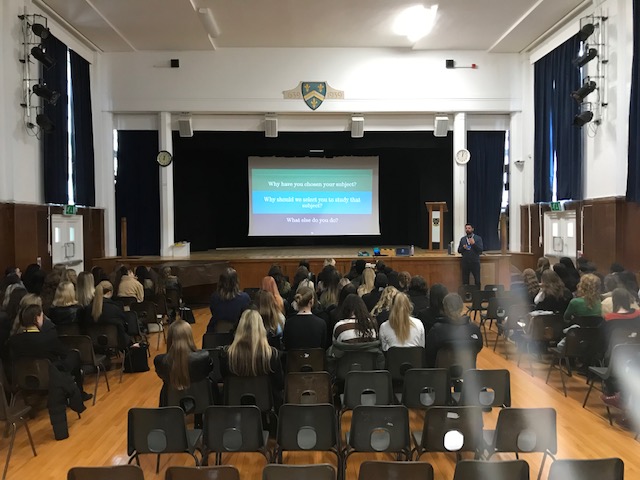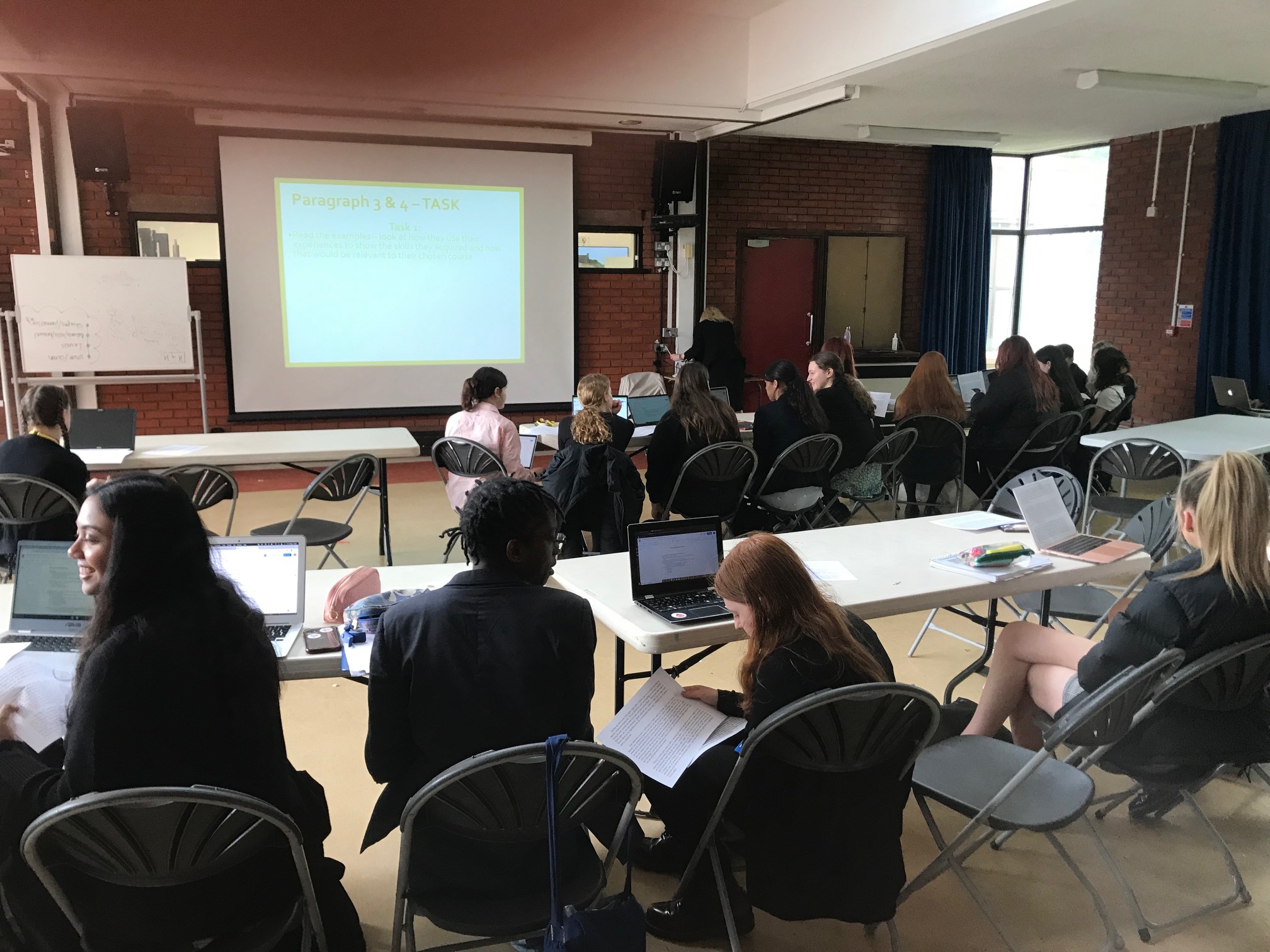 Also we are now running yoga sessions after school to help students balance their well-being with the pressure of exams. As you can see it's the place to be - great to see them finding ways to keep stresses in check.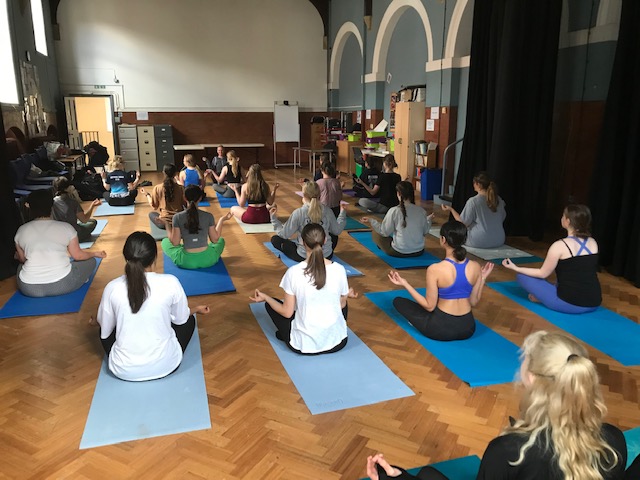 ---
library news
Are you a Heartstopper fan? If you love reading the graphic novels or watching the Netflix series based on the books, head up to the Library and check out our latest display. We've got lots of suggestions about what you can read next, including novels, short stories, non-fiction and graphic novels.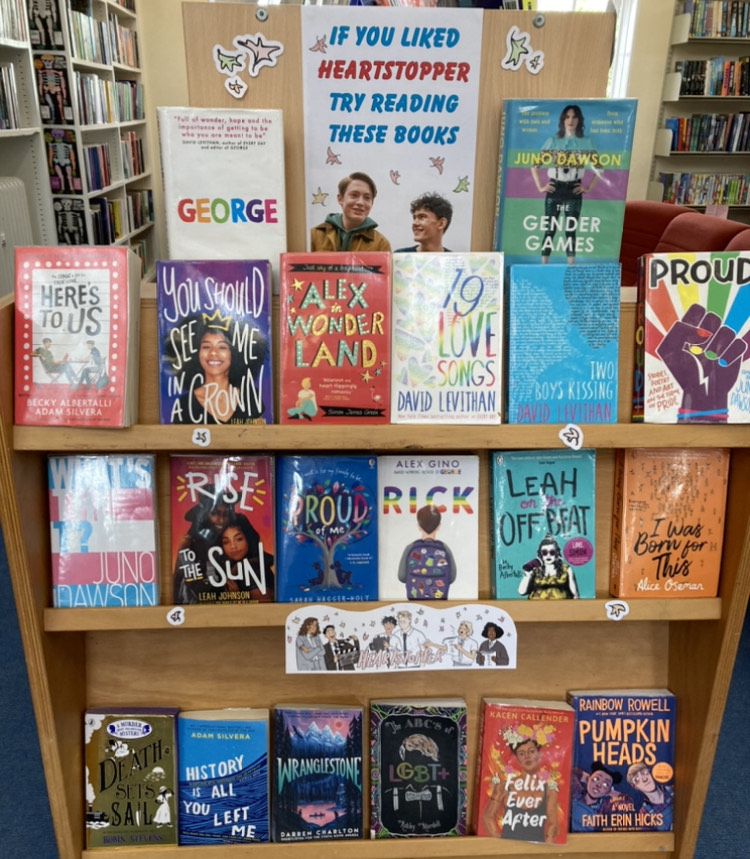 ---
DIning ROOM Weekly menu
[Every Day - Pasta, Jacket Potatoes & Toppings, Potato Pots (v)]
** MENU SUBJECT TO CHANGE **
Monday: SPINACH & RICOTTA CANNELLONI (v), PASTA BAKE (v), CARAMELISED ONION & CHEESE QUICHE (v) RASPBERRY & WHITE CHOCOLATE SPONGE
Tuesday: CHICKEN HOISIN NOODLES, CAULIFLOWER CHEESE (v), SPICY BEAN BURGERS IN A BUN (v), CHOCOLATE & BANANA SPONGE
Wednesday: SAUSAGE PASTA, THREE BEAN CHILLI (v) (gf), CARAMELISED ONION QUICHE (v), APPLE & SUMMER FRUITS CRUNCH (free from wheat, eggs, milk)
Thursday: SWEET & SOUR CHICKEN (gf), SPAGHETTI SAVOURY (v), CHICKEN FAJITAS, JAM SPONGE
Friday: PASTA BOLOGNAISE, VEGETABLE KORMA (v), FISHCAKES, FLAPJACK (free from wheat, eggs, milk)
(v) = Vegetarian (gf) = Gluten Free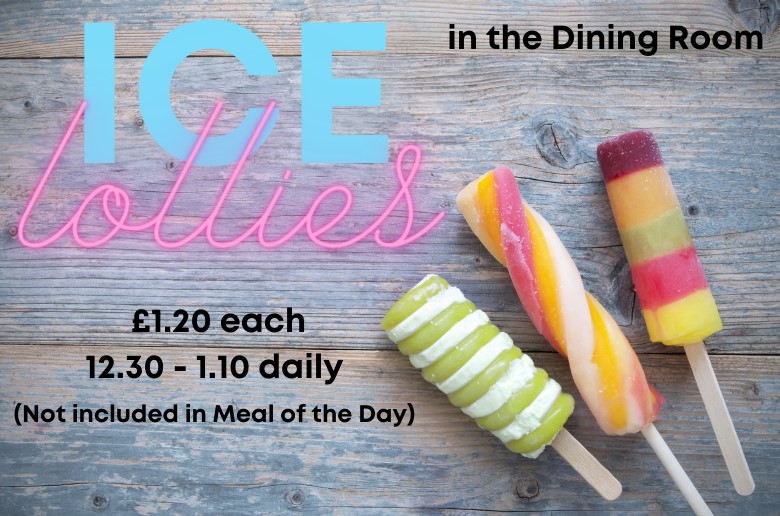 ---